This post may contain affiliate links. Read my disclosure policy here.
Lesley, 5 Minutes for Mom contributor, shares her insights on CleanItSupply.com. We were compensated, but all opinions remain her own.
Keeping your home clean can be a struggle, especially for busy moms. But it's a necessary evil and we all want our homes to be sparkling clean and germ free for our families! One of my main concerns when I am cleaning my home is what I'm using to clean with. So many products have harmful chemicals and I want to try to eliminate the risk of all those toxins coming in contact with my kids. I also want to make sure that the products I use are going to get the job done. There are so many different products out there I never know if I am choosing the right thing. It gets so confusing.

Recently, I was introduced to a website that allows you to purchase all of your cleaning needs from one place. CleanItSupply.com has everything! From janitorial supplies, restaurant supplies … you can even find office supplies! But the only thing I was interested in was cleaning supplies for my home and while browsing I found the Elements All Surface Kit.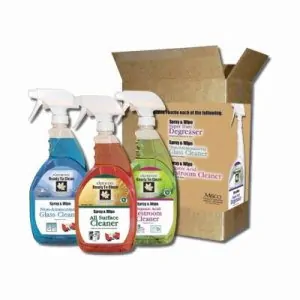 The Elements All Surface Kit contains All Surface Cleaner, Non Ammoniated Glass Cleaner, and Organic Acid Restroom Cleaner. All natural green cleanser that will allow me to keep the most used areas of my home clean without harsh chemical fumes or chemical residue. Elements cleaning power comes from the most effective natural sources. I was so excited to see everything I would need in one handy kit.
They don't only carry all natural products, you can find cleaning supplies like Lysol and SOS. Everything is sold in bulk and you can be sure you will find excellent pricing. I can't wait to look over the site more and find the products best suited to keeping my home clean and fresh!
What are your favorite cleaning supplies?
Lesley is mama to two kids,Gracie & Matthew. She's married to her first and only love, Robby. Living a simple life in WV she is author of Life with Lesley. Her blog has a little of everything – life, books, reviews, giveaways, and more!