This post may contain affiliate links. Read my disclosure policy here.
Jennifer here to share with you about Lullaby Paints, amazing chalkboard paint that comes in all different kinds of colors. We were compensated to write this post and given a sample, however all opinions remain my own.
My daughter is an artist. She loves to draw — on everything. I have to tell you that she is an amazing artist. She draws super heroes, people, animals, and more. When we were contacted about doing a review for Lullaby Paints, I knew this would be something that she would love in her room.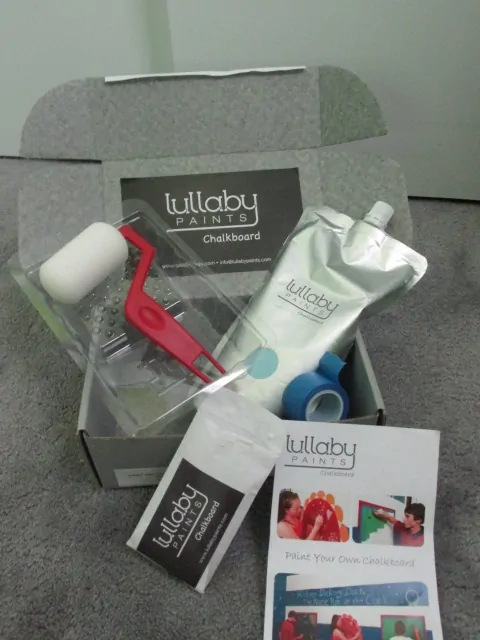 I loved how versatile and easy this paint went on. My 15  year old daughter tackled this project all by herself — something that is not easy to do with a lot of other chalkboard paint products.
About Chalk Board Paints
There's something undeniably fun about chalkboards (c'mon, admit it). They simply beckon for doodles and drawings. Go ahead and get your chalk on with Lullaby Paints hard, super-resilient Chalkboard paint made to the same baby-safe standards as other Lullaby Paints.
Offered in sixteen colors to accent any room, Chalkboard Paints provide a wonderful canvas for children to express their creative instincts. The low-sheen finish is ideal for all kinds of chalks and is fully washable to make masterpiece after masterpiece after masterpiece.
Chalkboard Paints are also available as a kit, including paint (sufficient for a board of thirty square feet with two coats) a roller, tray, chalk and edging tape. And, our safe formula means kids can paint their own chalkboard – perfect for artwork, poetry, or anything their imagination can dream up.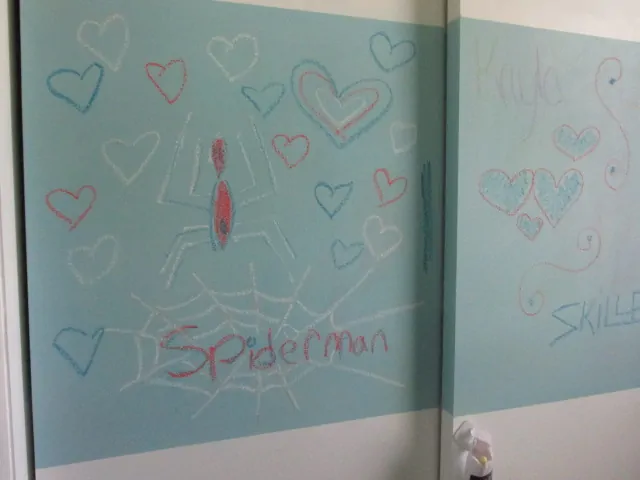 Since her room is lime green, black, and aqua blue, she chose the blue shade to paint with. She marked off a section of her closet doors and went to down painting.
The kit even comes with its own little bag of chalk, but like I said — my daughter is an artist, so she already had a ton of sidewalk chalk just waiting to be used so she decorated her board.
The paint was dry and ready to draw on about an hour after she finished. Each day, she draws something new on her Aqua blue chalkboard. Her project was small, but if you are looking to tackle a bigger painting project, you can order some FREE samples of their designer-inspired colors.
Enter to win
One reader is going to get their chance to win a Chalkboard paint kit in their desired color. New to Rafflecopter? Watch this 45-second video on how to enter!
So which color would you choose? What would you do with it?