This post may contain affiliate links. Read my disclosure policy here.
5 Minutes for Mom contributor Jennifer Donovan is here to tell you about her experience with the new Black and Decker Steam Mop. She got a product to review to facilitate this review and was compensated for writing this post and sharing her honest opinion.
True confession time. I'm not a good housekeeper. I struggle every day against my urges to pile things up instead of putting them away, and my house is certainly not white glove clean. However, I have successfully found a way to balance my natural inclination to be lazy with a true desire to have a home that can welcome visitors and be a haven for my family.
When I was offered a chance to check out the Black and Decker SmartSelect Steam mop, I jumped at it (or perhaps like the woman in this video, I danced a little!):
If I was a good housekeeper, I know that I'd sweep every day, and mop every week — right? is that what you good housekeepers do? Well, I don't. And especially in areas like my kitchen and bathrooms, I don't always feel like they are as clean and sanitary as I'd like them to be.
Out of the box
Setting up the Black and Decker SmartSelect Steam mop was easy. Within a few minutes of taking it out of the box, it was ready to go. At first, it didn't turn on, but that is a safety feature. After looking more closely, I hadn't attached the handle properly. Once I pushed it all the way in, it heated up in less than a minute, as promised.
Steam Cleaning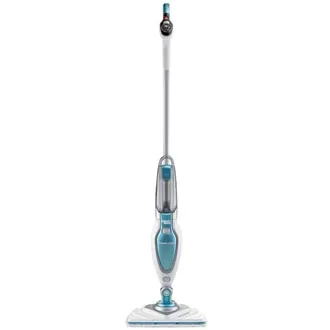 My first project was my ceramic tile kitchen floor. I swept first, as directed, and then I used the steam mop to clean. There were a couple places that had extra drips, so I used the burst of steam, and after a few passes, it worked. I did find that if I wet the pad lightly first, it worked better. This is not recommended by the manufacturer, but it made me feel like I was getting a better clean.
However, using steam only still made my floors feel clean. The steam didn't seem dangerous. My 9-year-old son was fascinated, and even got up close to take a look. He thought the floor would be hot after it was cleaned, but it wasn't.
I also used the mop on my sealed hardwood floors, and I loved the results there as well.
The last thing I tried, was the "carpet freshener" feature. To use that, I snapped on the carpet glider and used it the same way. I'm not sure exactly what this did, but I liked the results on my kitchen rug and my large living room area rug.
The mop comes with two pads, so that you can wash one (in the machine, lay flat to dry) and always have the 2nd ready.
Just fill and go
Perhaps my favorite thing about this mop is how lightweight and maneuverable it is. I was able to get under my sofa, right by the kitchen baseboards, and around corners with ease.
I like that I don't have to use any other products — just fill the water tank and go — saving me time and money.
It still has that new gadget feel, but I have a feeling that this will be a regular part of my cleaning routine. Perhaps I'll even join the "good housekeeper" club and give my floors the weekly attention that they want.
Enter to Win
One of you will win the Black and Decker Steam Mop. Use the Rafflecopter form to enter this giveaway. New to Rafflecopter? Watch this 45-second video on how to enter!
a Rafflecopter giveaway
So tell us — what is the worst thing you hate about mopping your floors?