This post may contain affiliate links. Read my disclosure policy here.
We are excited to be partnering with the Blueberry Council to chat with you about these amazing little blue dynamos, the blueberries. We were compensated to bring you this information but all opinions are the writer's own.
Summer is in full swing now that my kids are out of school and we are all very excited to start our weekly Summer trips to our local Farmer's Market. It's one of our favorite places to go with the kids because, not only do we get to support our local farmers, but my kids get to stock up on some of their very favorite naturally sweet treats — Blueberries!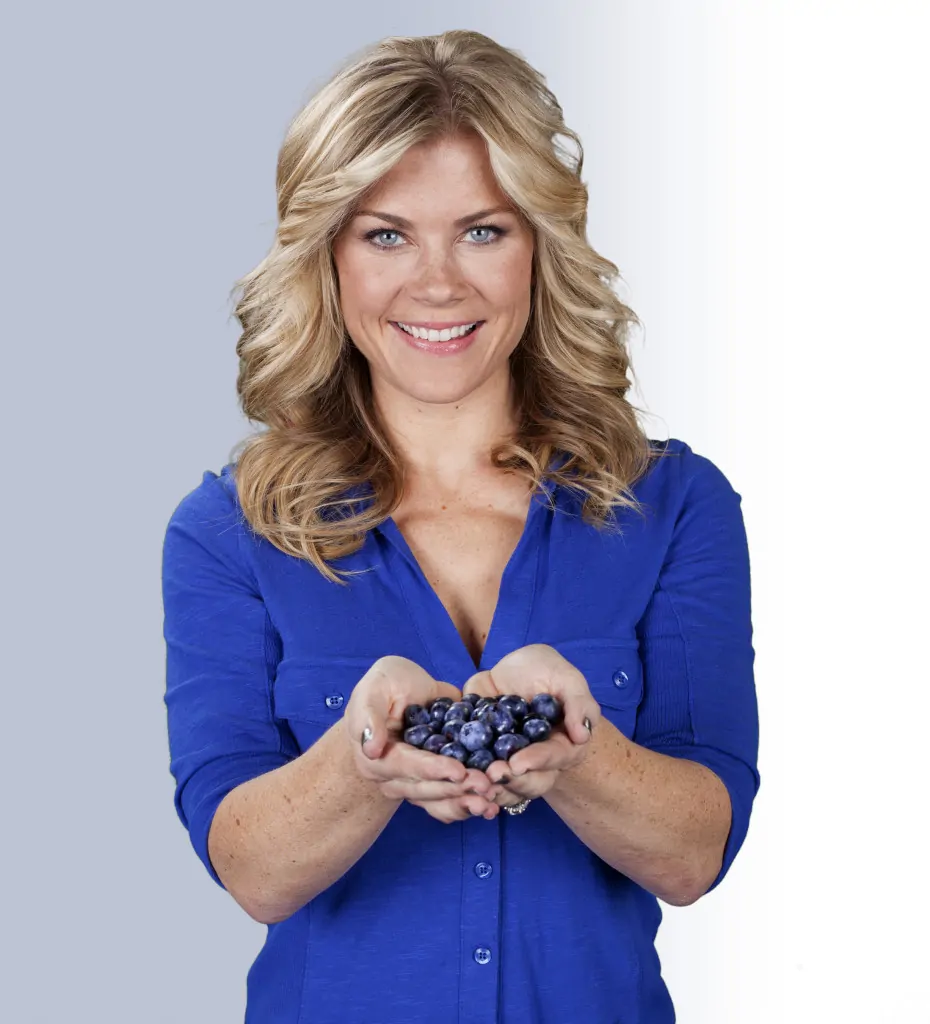 Luckily we not only have a fabulous Farmer's Market where we can pick up yummy blueberries but we also have lots of "You Pick" where we can pick our own bushels of little blue goodness!
We love blueberries for so many reasons. They are delicious, nutritious, the kids think they are super fun to eat, and we can add them to so many of our already favorite recipes throughout the day. Seriously, did you know you can pretty much incorporate blueberries into breakfast, lunch, dinner, dessert, and snacks? They are like this crazy little ninja fruit!
Recently the Blueberry Council has teamed up with busy mom and celebrity, Alison Sweeney (Biggest Loser, Days of Our Lives), because her family happens to be pretty big fans of this little berry, too!
During a long Summer with kids at home and lots of treats around us, it can be tough for moms to stay on track with exercise, health, and a little "me" time. Here is what Ali had to say about those:
"No matter how busy I am, I never skip breakfast! Nutrition is #1 in a busy life. My tried and true way to fuel up for the day is with oatmeal + blueberries + agave nectar + cinnamon. Sticking with a dish you know the nutritional facts of is a good way to stay on track — with blueberries, I know there are only 80 calories in a cup, plus I'm getting fiber, vitamin C and an energy boost!

Start with #1. Don't lose yourself as you try to balance the various responsibilities in your life. Make it a priority to take care of yourself. Put your workouts on the calendar to ensure you make time to work out. Just as the airplane flight attendant recommends, put your oxygen mask on first!"
And whey you only have 5 minutes to spare between work, kids, and craziness?
"Burpees. It's definitely a love-hate relationship, but doing 5 minutes of them will skyrocket your heart rate & jumpstart your metabolism. It tones your arms, abs and legs – triple threat!"
As a work-at-home mom of 3, blueberries are one of my favorite go-to snacks! I keep a bowl of them by my desk in the afternoons to snack on while working. They satisfy my sweet tooth and give me the energy I need to power through the afternoon. I also like to make little snack packs of blueberries that the kids can easily grab when they get hungry between meals. They are perfect for taking outside or grabbing on the go!
I encourage you to sweeten up your Summer with some amazing blueberries as they come into season in your area. Find great recipes that your kids can get involved in making. And then remember to connect with the Blueberry Council on Twitter, Facebook, Pinterest and YouTube for more blueberry inspiration and to share your own creations and experiences!
Of course we'd love to hear about your favorite Blueberry Recipes, too! Share with us in the comments below.
Blogging at StaceySays.com about life as a mother to 3 young kids, Stacey dreams big through her life list and is currently shopping two of her children's books to publishers.