This post may contain affiliate links. Read my disclosure policy here.
Paige, 5m4m contributor shares her insights into EDNA – a network that alerts your contacts when you can't, through this review and giveaway. We were compensated to write this post and she was provided with a sample, however all opinions remain her own.
Does your family have an emergency plan?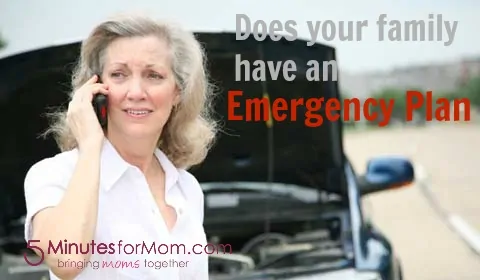 Most families have a fire escape plan for their house. In the event something happens at school, your school has emergency contact numbers to contact you or your spouse or a neighbor at work or home to help your child. However, do you have an emergency plan for yourself or your family in the event of an accident or medical emergency where you are incapacitated?
How would you notify the school that you would not be picking up the kids? How would you notify your loved ones that you were in an accident and need their help? I bet, like me, you are saying, "I have my important  numbers programmed in my phone. Isn't that enough?" Well, maybe but, what if your phone is locked or broken in the accident? Most parents I know of keep their smart phones securily locked to keep the kids from using their phones or to stop someone from using their phone if it gets lost or stolen.
So what can you do? Get Edna to help!

What is Edna?
Edna (Emergency Dependent Network Application) is the brainchild of founder, Mike, who worried about what would happen to his kids if he was injured in an accident. How would his family know that he and his kids were in need of help? Edna was born from his daily commute through heavy traffic and unpredictable driving conditions.
Edna can provide a Good Samaritan or first responder with a way to help you notify your family or your friends that an incident has occurred.  Once activated, Edna gives your trusted contacts the information they need to take care of your loved ones for you.
How does Edna work?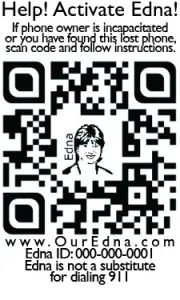 Edna is a simple QR code on an industrial grade label that you stick to the back of your phone. Anyone can scan the label with their phone and activate the application.
When the First Responder scans the QR code label on the back of your phone, they are prompted to enter their phone number and activate the system. Then, Edna sends out an email blast to all your contacts letting them know that an accident has occurred and gives them the instructions that you want them to have. It even gives your contacts the phone number of the first responder so that your friends and family can find out about your status.
How easy is Edna to set up?
Simply log on to www.OurEdna.com and follow the easy instructions for entering your information, contacts, emails, and phone numbers and payment. Once Edna receives confirmation of your sign-up and payment, two labels are sent to you in the mail. Your sign-up fee is $9.99 for the year. If your school or daycare is part of the Edna network, Edna will send them $5 of your sign-up fee in a check to them. How fantastic is that? Edna helps you and you help your school at the same time.
My Thoughts
Edna is my new favorite application.  I love the fact that I can personalize messages to each of my contacts and that they will get the phone numbers of my fellow contacts so that they can coordinate their efforts on behalf of my family. As a runner, I feel safer on my long runs with Edna on my phone. I can rest easy knowing that my family will get notified if I am injured.  Edna is also great for senior parents or college students or workers abroad who are on the go and may find themselves in a medical situation where they cannot make calls for themselves.
 Enter to win
I am so excited to announce that 10 of our 5 Minutes for Mom readers are going to get their very own Edna system! You will get your own Edna label, one year subscription, and online account to set up your contacts. Use the Rafflecopter form to enter this giveaway. New to Rafflecopter? Watch this 45-second video on how to enter!
a Rafflecopter giveaway
        I am an artist, art educator, cook, mom, pet parent, runner, and backpacker. I can be found online at Briar Rose Art Studio and on Tumblr.