This post may contain affiliate links. Read my disclosure policy here.
Geri, a 5m4m contributor, shares her insights about musical artist Olly Murs. This post is part of a promotional campaign for Olly Murs and Walmart Soundcheck Risers. While we were paid to promote this artist, all opinions remain our own.
Okay, I'll say it.  I've been a little out of touch with the music scene lately.  Not out of touch like stuck in the 80's.  Just not always sure who I'm hearing when I listen to tunes.  There are a lot of new artists coming out with whom I am not familiar.  Lucky for me I have teenagers who help me catch up when I turn on the radio and ask "Who sings this song?"  We just had this conversation a few days ago when my boys were singing along to a song I had not heard before.  Not only do I love this guy's music, I love his name:  Olly Murs.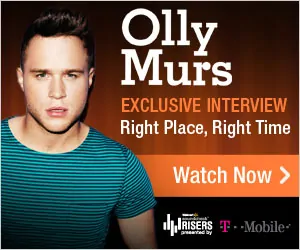 Murs got his big break musically as the runner up on season six of The X Factor (U.K.) and recently opened for the boy band One Direction during their tour.  Olly has proven that he is a talented vocal artist with hit singles like Dance with Me Tonight and Please Don't Let Me Go, which were both chart toppers in the U.K.
Now he is breaking into the U.S. market and working with some pretty big names in the industry.  Walmart's Soundcheck Risers, which features Olly Murs discussing his new album, "Right Place, Right Time" reveals why he wanted to work with rapper Flor Rida on the Troublemaker track from this album. Olly also talks about how he feels regarding his new found fame.
My kids and I really enjoyed the "behind the scenes" interview and upbeat tempo of the song Troublemaker.  We decided to add some of his music to our road trip playlist this summer. But my boys made me promise that I would not dance the way I was dancing when I listened to Olly's song the first time. Apparently my dance moves do not look as cool as I think they do. Whatevs. Even though I said I wouldn't dance?  I'm gonna. Cuz I'm a Troublemaker.
Like what you see? Wanna here more? You can check out more of his work on Olly's YouTube channel, then go pick up his "Right Place, Right Time" CD at Walmart.
Enter to win
One lucky 5M4M reader is going to get their chance to win a wonderful Olly Murs package, which includes
Olly Murs "Right Place, Right Time" CD
Autographed Olly Murs Walmart Risers poster
$50 Walmart gift card
Use the Rafflecopter form to enter this giveaway. New to Rafflecopter? Watch this 45-second video on how to enter!
What is your favorite part about the Risers?

Geri Chase is mom to 2 hilarious boys and wife to an insanely funny husband, all of whom like to remind her that the fact that she is a girl does not give her immunity from their testosterone induced humor. While she pretends not to be amused, she secretly laughs herself silly over their antics and frequently blogs about life and family friendly products over at I Am Boymom.