This post may contain affiliate links. Read my disclosure policy here.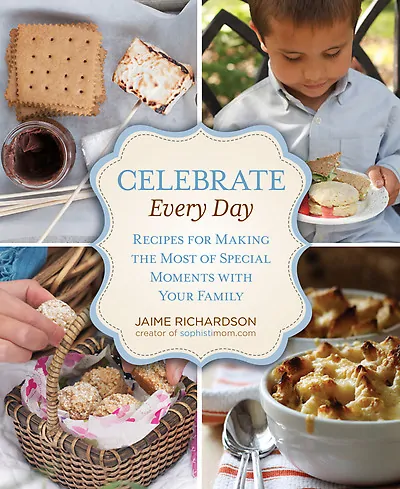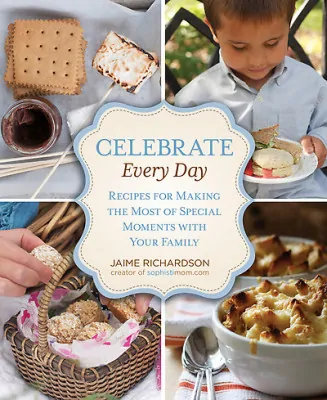 5 Minutes for Books staff reviewer Carrie received a copy of this book to facilitate her review.
Busy moms tend to think there is not much time to pause and celebrate life. There are three meals a day to get on the table, laundry to attack, errands to run, school to deal with and all sorts of relational issues which need constant attention. Frankly, taking time out to celebrate something frequently feels like something that I do not have to time to do. Taking "time out to celebrate" means taking time away from something else and I don't know about you but I find myself with relatively little time to spare. (I suspect you moms know exactly what I am talking about.)
Enter Celebrate Every Day
by mom and fellow blogger, Jaime Richardson. Here is a beautiful book which comes along to remind us that celebrations don't have to be big and that happy moments of reflection can be inserted into daily existence with very little physical effort. (It does, however, require a change in your general perspective.)
As Richardson explains at the beginning of the book, she had been going through a divorce and felt the stress of trying to recreate family time with her children. How was she, as a single and busy mom, supposed to incorporate joy and times of celebration into the children's daily life? She explains that celebrations do not have to be limited to major holidays but a child's favorite meal can be served in honor of a good grade, or after accomplishing a special skill. We can celebrate little things from potty training to learning how to ride a bike. Mostly, we just have to take a moment to acknowledge that we are ever growing and experiencing life. That life can be made more beautiful if we begin looking for truth and beauty in the "mundane."
Celebrate Every Day
is a beautiful collection of healthy (and easy!) recipes to make regular meals fun and to encourage you to look for ways to make the most of the moments that we have on this earth. The book is littered with beautiful full-colored photographs that make you want to find a garden and have a picnic. Now.
Recipes include:
Carrot Cake Muffins with Cream Cheese Frosting
Grilled pizzas
Rustic Rosemary Olive Oil Bread
Autumn Harvest Salad with Pumpkin Seeds
And many, many more!
Your celebrations can be as simple as you like or complex as you want to make them. The point of this book is: find things to delight in, and then delight in them.

Would you like to win a copy? Two of you will! Enter by using the rafflecopter below, starting off by answering the question "What is one of your family favorite recipe?"
Carrie blogs about books for the entire family over at Reading to Know.com and also at 5 Minutes for Books.