This post may contain affiliate links. Read my disclosure policy here.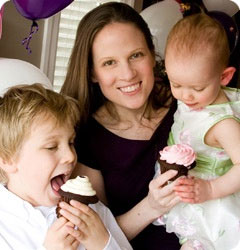 I am a weekly columnist over at Guideposts.com, but every time they choose to feature one of my posts in the main marquee on the home page I get excited.
There is something about seeing your face front and center on a major site — I grew up hoping I would one day write for Guideposts magazine — that makes you feel like maybe you actually are a "real" writer, that maybe you actually achieved your dream!
My featured article this week is a post I wrote about my son and my struggles with anxiety. We both battle worries, but for very different reasons:
"That day, I learned to look closer, listen harder and dig deeper. Our children can have all different kinds of worries that can hold them back."
Here is an excerpt from my post. You can read the full post at Guideposts.com.
Worry Wart
My son got my hair color, and my anxiety. But we both learned to cope
My son inherited my tendency to worry.
The only difference is our anxieties come from completely different things.
I suffered from terrible separation anxiety as a child. Even now as an adult, I hate to be separated from the people I love.
I have to push down little pangs of panic when I have to travel without my children or when someone takes them in a car without me.
I feel anxious when my twin sister or my mom board a plane. And if my husband is late getting home, I start dialing his cell phone.
So when my son went through a difficult stage of crying for me during his first year at preschool, I assumed it was separation anxiety. But it wasn't…
Click here to finish reading at Guideposts.com…
YOUR TURN: What about you??? Did your children inherit your challenges? Have any of your children struggled with anxiety?
Written by Janice.
Remember to sign up for our RSS Feed.