This post may contain affiliate links. Read my disclosure policy here.
Jennifer here to share with you about a fabulous new shoe I discovered — Bokos Sandals. I was sent a pair to review and we were compensated to write this post, however all opinions remain my own.
I am constantly on the go either running errands, taking my kids to whatever activity they are going to, meetings with other homeschool moms, church — you name it — the list goes on and on. Because of my hectic schedule, I am always sliding my feet into a pair of flip flops simply because they are super easy to get on and off. Now, though, I have discovered Bokos Sandals and I love the comfort, feel, and stylish look that they offer.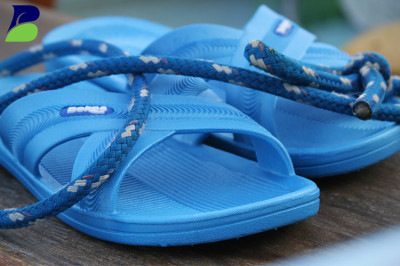 How the Bokos Sandals were discovered:
Bokos was created by two brothers from Minneapolis, Minnesota. After spending time overseas, they returned to the United States with sandals styled similarly to Bokos. The unique design and material made for a durable, easy to clean, and fun to wear sandal.
The founders began wearing these sandals everywhere. Around the campsite, after mountain biking, hosting barbecues, and everything in between. Soon, friends and family (and often, strangers) started asking how they could get a pair – to wear to the beach, after a workout, or just to wear around the house.
It was then that Bokos was born.
I love the look and feel of the Bokos Sandal. It is very stylish and is extremely comfortable. While I was away on a trip this time, I decided to wear my Bokos to the airport. Not only did they help me to get my shoes on and off fast, but they were extremely comfortable walking from the security checkpoint to my gate — which seemed like almost a mile and a half of walking time.
The Bokos Sandals come in both Men's and Women's styles. They are offered in an array of colors to fit every fashionable design. I chose black, simply because it is a very versatile color.
What makes Bokos Sandals so unique
So why Bokos sandals above all the other sandals out there? Here are 4 reasons why you will love these versus other brands.
DURABILITY: The one-piece design gives superior strength and durability, making sure your Bokos can handle anything from normal wear and tear to life's most demanding activities.
ANTI-SLIP: Tried and tested, a new pair of Bokos gives you just the right amount of stick, like a fresh set of tires for your automobile. Like all rubber products, extensive use will gradually reduce the stickiness. And then, maybe it's time for a new colorway!
EASY TO CLEAN: Bokos are constructed using non-porous rubber material, which helps block out dirt and keep your sandals clean. And when you decide to put them to the test, giving your Bokos a thorough cleaning will return them back to the way you want.
ANTI-ODOR: Much like the resistance to dirt, the non-porous material helps eliminate odor and keep your Bokos smelling fresh, even when you're not.
Bokos Sandals sell for $16 a pair. Visit the site to learn more about this amazing shoe and how you can order yourself two or three pairs.
Enter to win
One reader is going to get their chance to win a pair of Bokos Sandals. Use the Rafflecopter form to enter this giveaway. New to Rafflecopter? Watch this 45-second video on how to enter!
a Rafflecopter giveaway

Which color of Bokos sandals would you choose?