This post may contain affiliate links. Read my disclosure policy here.
This post was submitted by Lauren Kim.
Happy Spring! The tulips and daffodils are blooming in my home's garden, but until recently, my kitchen's dining table was looking barren and not at all like spring!
I've seen many great burlap tutorials on Pinterest and on mom blogs, so I decided to remedy the situation by making my own burlap table runner.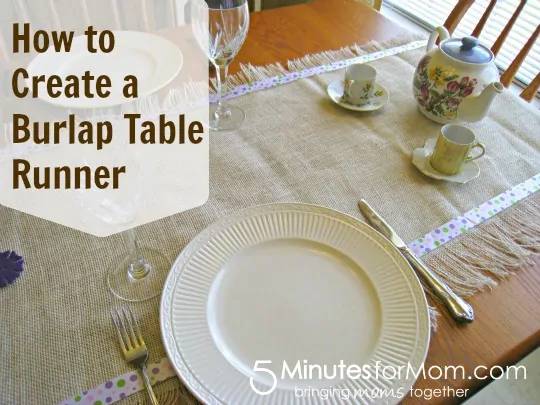 Getting Started
I first measured the width and length of my dining table, and took those measurements to my local craft store. I added a few inches to the length (and subtracted a few from the width), since I wanted the burlap table runner to run only down the middle of the table and hang off the head and the foot of the table. At $3.99 a yard (I only needed 3 yards), and my 40% off coupon, my fabric came to just over $7. Not bad! I also purchased ribbon and a bag of felt craft buttons for an additional $7, so my project cost me about $14.
Once I got the fabric home, I placed it on my table and cut it to size. Then, I started the fun part! To create fringe on all four sides of my table runner, I started pulling the burlap ends – on the long sides of the runners, I pulled the strings running the length of my table, and on the short sides, I pulled the strings running the width of the table. I stopped when I had about 3 inches of fringe on each side.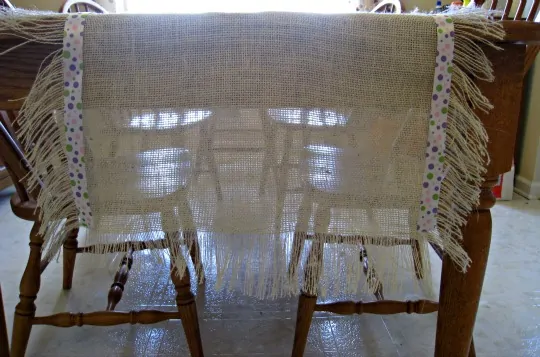 Unraveling the edges of the runner, which took about 30 minutes or so, was quite messy (be sure to have a vacuum on hand), but it also very therapeutic! I liked the quiet while I worked (the kids were at school), but if you don't want 30 minutes of quiet time, you might want some music or a TV nearby.
Using my sewing machine, I stitched the runner on all ends on the inside edges of the fringe, so the runner wouldn't unravel more than I wanted it to!
Adding the Finishing Touches
Since I wanted to finish the runner before my kids came home from school, I used fabric glue to glue decorative ribbon trim along the long inside edges of my runner and to add some decorative felt craft buttons to the center. But when I have more time, I plan to add some stitching to keep the ribbon and the felt buttons more securely in place.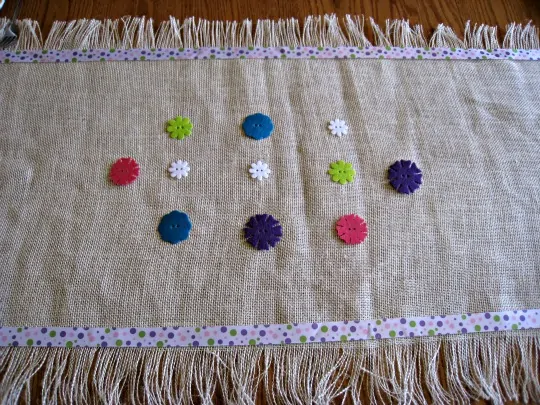 For so little money, I am happy with my results! Since my dining table is so long, it's been difficult to find table runners that fit – now, I have one that fits perfectly! And if I like, I can make a new one, or update this one for each season.
About Lauren Kim
Lauren Kim is the executive editor of Mom Home Guide, a website for moms on creating the perfect home for one's family. A mom to two daughters, she mostly blogs about home décor, DIY projects and crafts. You can follow her on Facebook and Twitter.