This post may contain affiliate links. Read my disclosure policy here.
Since we're in the middle of The Ultimate Blog Party 2013, we wanted to bring you a party-inspired recipe.

We've invited Katerina (Kate) from the food blog, Diethood to share her recipe for the Ultimate Party Food… Spinach Artichoke Dip Pizza.
Parties mean pizza, but this is not your ordinary pizza… It's dip and a pizza. No… It's a dip on top of a pizza. Spinach and Artichoke Dip PIZZA!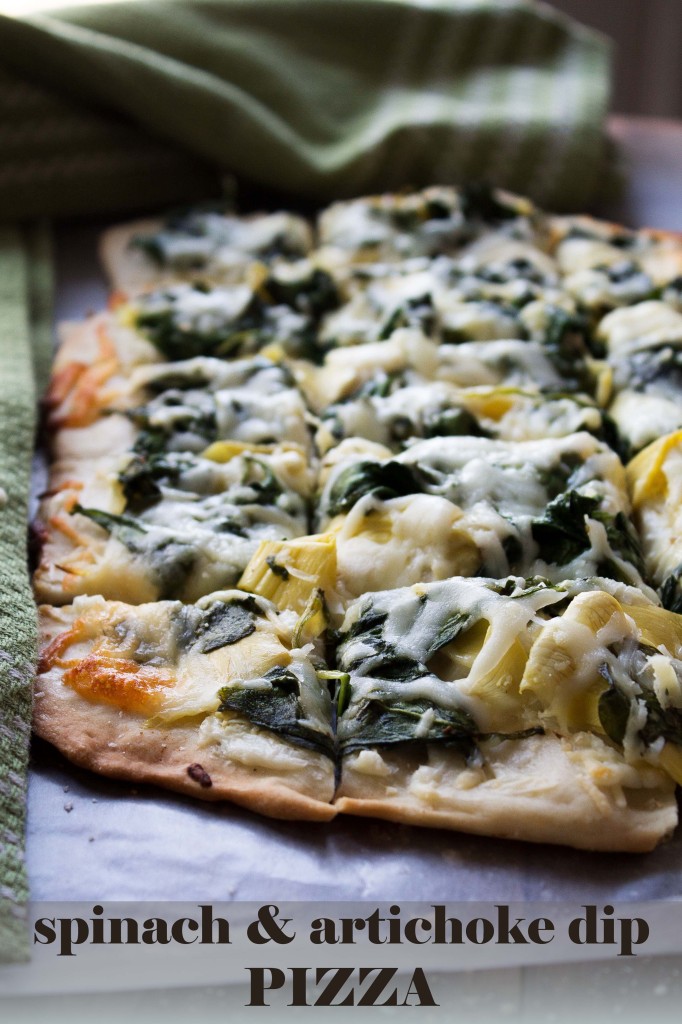 The delicious, homemade crust will only take 5 minutes of your time to prepare.
Then, while that's in the oven, you will be preparing the toppings. Sautee some spinach, open up a can of artichokes, mince some garlic, spread some cream cheese, and… and that's it.
Pop it in the oven for about 15 minutes and have yourselves a party.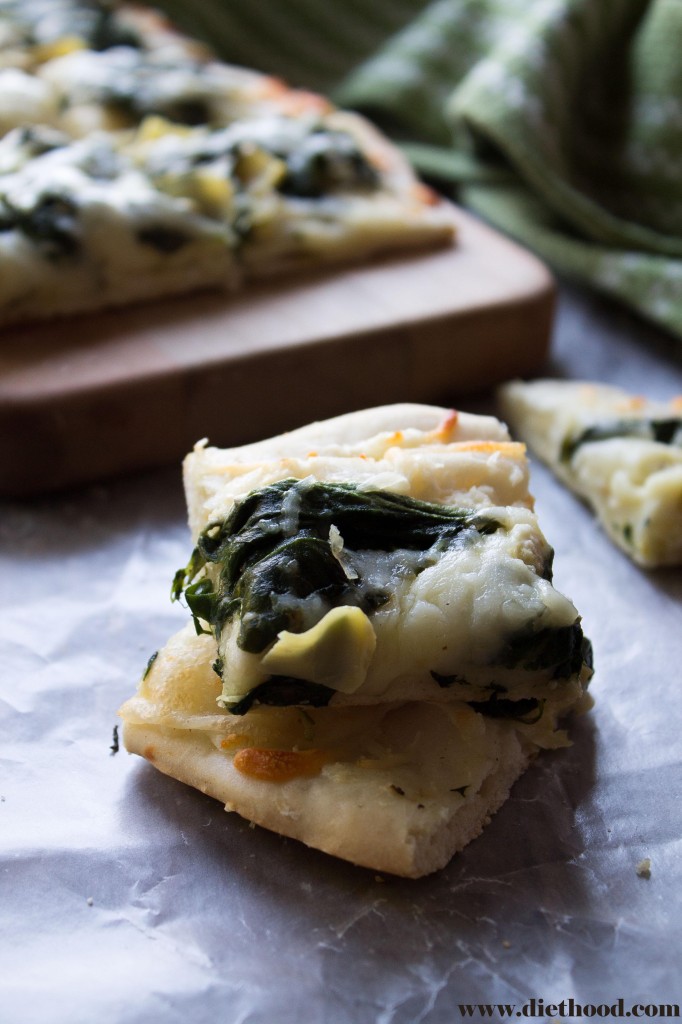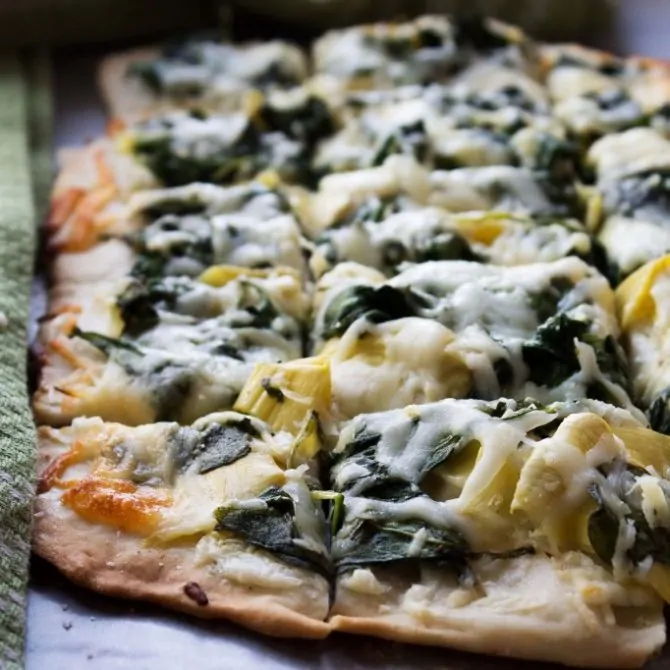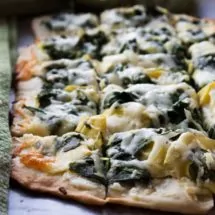 Ingredients
For the Crust
1 cup warm water 110 degrees Fahrenheit
1 package 1/4 oz. instant yeast
2 tablespoons olive oil
2-1/2 cups all-purpose flour
Garlic powder
For the Topping
4- ounces Whipped Cream Cheese
1 can 14 oz. quartered artichokes
1 teaspoon olive oil
1 bag 9 oz. spinach
Salt and freshly ground pepper to taste
2 cloves garlic minced
½ cup shredded parmesan cheese
2 cups Shredded Mozzarella cheese
Instructions
Directions:

Preheat oven to 375.

Pour the warm water in a large bowl; whisk in the yeast until completely dissolved.

Add in the olive oil and flour.

Stir with a wooden spoon until it all comes together and a ball of dough is formed. You may need to use your hands.

Cover with a kitchen towel and set in a warm place for 15 minutes.

Line a baking sheet or a pizza pan with aluminum foil and spray it with non-stick spray.

Transfer the dough to a lightly floured surface and knead for 3 minutes.

Spread the pizza dough on the prepared pan, using the palm of your hands and fingers to stretch it out to about a 1-inch thickness. (You can make it as thin or as thick as you want)

Bake it in the oven for 10 minutes.

Remove from oven and let cool for 5 minutes.

Spread the cream cheese on top of the pizza crust.

Separate the artichoke leaves and spread over the cream cheese; set aside.

Heat the olive oil in a frying pan and add the spinach.

Season with salt and pepper, and cook until just wilted.

Mix in the minced garlic and remove from stove.

Spread the spinach mixture on top of the artichokes.

Top with cheeses.

Bake for 15 to 20 minutes, or until crust is browned and cheese is melted.

Serve.

Visit Kate on her blog or check out her social media profiles. She has some amazing recipes!
My name is Katerina, but you can call me Kate, and I am the author of the food blog, Diethood, a site for easy, quick, and delicious recipes.

Armed with a passion for eating, cooking, baking, food photography, entertaining, and all food-related subjects, in 2011 I decided it was time to hang up my professional executive suit, put the apron on, and join the food blogging community.

http://pinterest.com/diethood/
http://www.facebook.com/diethood
http://twitter.com/Diethood
Diethood on Google+