This post may contain affiliate links. Read my disclosure policy here.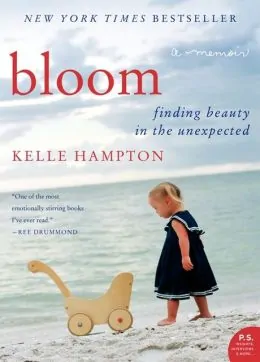 The birth of a child is a time full of emotion, celebrating the new life in one's family. When Kelle Hampton was preparing to welcome her second child into the world, she had visions of the life ahead. As her newborn daughter Nella was handed to her moments after delivery, she realized that the life ahead of them would be different than she had first imagined. A diagnosis of Down syndrome was soon confirmed, and Hampton began a parenthood journey filled with a myriad of emotions. Bloom: Finding Beauty in the Unexpected is Hampton's memoir account of Nella's first year.
Readers of this affecting memoir need to be prepared for a few things. One, keep a tissue box nearby at all times when reading, for Hampton's voice is evocative and familiar, reaching out as if in conversation with a good friend. She doesn't hold back here at all, and her fierce honesty reveals mixed emotions about this new parenting territory. She bravely puts it all out there, the dark and the bright moments, and the emotions are strong.
Through the process of recounting Nella's first year, Hampton ends up reflecting more specifically on her own journey as a mother. Her memories and introspection reveal a mother who deeply loves her children and who is prone to tears through the happy and the sad. To complement her memories, Hampton's photography skills give readers an intimate look into her life, from pictures in her hospital room to images of Nella and her sister Lainey in the loving arms of their family. Hampton certainly has a way with words and with a camera, expressing beauty and joy through both mediums.
Bloom: Finding Beauty in the Unexpected is a lovely tribute to a parenting path Hampton never expected to travel upon. This is a beautiful read for all parents, and one that I suspect will resonate even more deeply with parents of children with special needs.
For more ways to connect with author Kelle Hampton, check out her website, Facebook page, Twitter account, Pinterest boards, and Instagram pics.
We're so happy to offer up a copy of Bloom in today's giveaway. Please follow the directions in the Rafflecopter below to enter. Giveaway is open to US and Canada residents.
5 Minutes for Books contributor Dawn loves reading parenting stories of all kinds. Every once in a while, she shares her own on her blog, my thoughts exactly.