This post may contain affiliate links. Read my disclosure policy here.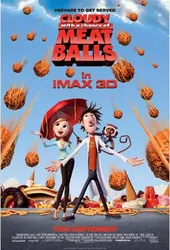 I am excited!!! A certain movie that I have been waiting to take my five-year-old daughter to is opening next week! And there will be NO BETTER place to view it than at the nearby IMAX. I must admit, I am spoiled. Our local IMAX is about a 3 minute drive away.
On September 18th, Cloudy with a Chance of Meatballs will be hitting the IMAX screen. And that's not all. It will be an IMAX 3D Experience.
Let's hope that I either have a big lunch before the movie, or bring in tons of candy, ice cream and popcorn, because I have a feeling that food flying at me in 3D will leave my tummy growling.
Based on the beloved children's story featuring flying flapjacks, plummeting pasta, and meatball meteors, Cloudy with a Chance of Meatballs is sure to get children and families everywhere 'salivating' with excitement!

For your viewing pleasure, here is the trailer for Cloudy with a Chance of Meatballs: An IMAX 3D Experience.
To celebrate the opening of Cloudy with a Chance of Meatballs, we have a "Hungry Moviegoer" IMAX Prize Pack to award one lucky reader.
Winning Package Includes:

1 Cloudy with a Chance of Meatballs IMAX movie poster
Family 4 pack of IMAX tickets
1 copy of Cloudy with a Chance of Meatballs by Judi Barrett
1 copy of Pickles to Pittsburg by Judi Barrett (the sequel to Cloudy with a Chance of Meatballs)
A $25 gift card to Macaroni Grill (also valid at Chili's, On the Border, and Maggiano's Little Italy)
To enter simply leave a comment telling us what food you'd like to have fall from the sky. You have until Monday, September 21st. One winner will be chosen at random and announced on Tuesday, September 22nd. This contest is open to US addresses only.
As always, don't forget to earn more entries: subscribe to our Feed, sign up for our 5M4M Newsletter, add our 5 Minutes for Mom button in your sidebar, write a post and link back to this contest on your blog, and spread the word via Facebook, Twitter, or email! Please see our site's Terms and Conditions of Use for a complete list of our contest and giveaway rules.
I did not personally receive tickets to attend this movie, but we thought you would like to hear about it and have the chance to win! IMAX did pay us a nominal fee to help cover our costs for running the giveaway.
Written by 5 Minutes for Mom Contributing Editor: Erica