This post may contain affiliate links. Read my disclosure policy here.
Every year after Easter, my Dad and I discuss who is getting the bone from the Easter spiral ham. I think I should always get it, just so I can make my split pea soup. My love of cooking comes from my Dad who is a fantastic cook. We both make a mean split pea soup. Luckily, my kids prefer mine, so much that my daughter asked for my recipe for her birthday meal.
This year I bought a ham with the sole intention of making her my soup. I love a meat that will yield more than one meal and a spiral ham is perfect. By buying my own ham, I totally avoided the Easter argument with my dad.
One of my secret ingredients to making bright green split pea soup is vitamin C it helps to keep the peas and carrots shining in their beautiful, bright color. I keep a bottle of vitamins C in my kitchen cupboard with my spices. Pair this soup with a crusty homemade rustic bread, croutons, and a little cheese . Your family will ask for more.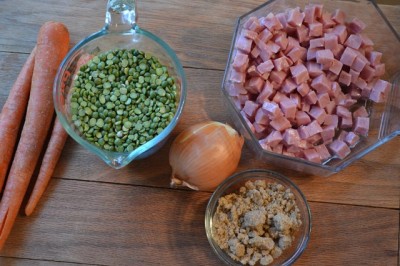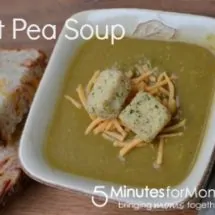 Ingredients
2 bags of dried split peas
2 onions diced
5 celery stalks diced
6-8 carrots med size peeled and diced
1 teaspoon of cumin
½ cup of brown sugar
1 ham bone Excess ham from ham or package of diced ham
2 cans 64oz big Cans of chicken or veg table broth or 1 gallon of water
Salt and pepper to taste
Instructions
Start with a Mirepoix (carrots, celery, and onion). Season with salt. Sauté till onions celery are translucent. carrots, celery, onions

Crush in the vitamin C and 1 teaspoon on cumin.

Add Ham bone with 1 gallon of water or 2 large cans chicken /or vegetable broth. The broth adds a layer of taste.

Then add the split peas. Bring to a boil and turn on low. Allow to simmer for 2 hours.

Remove bone and any excess ham parts.

Add brown sugar.

Using a potato masher mash the peas, the carrots float so they will stay on top.

Allow to cooking for another 1-2 hours rendering the soup to thick.

Added reserved picked and diced ham to pot, warm up the ham and serve.

Note: If soup is too thick add milk (do not boil) to thin out.
What types of recipes will you been creating with leftover Easter ham?
Link up a recipe with us!