This post may contain affiliate links. Read my disclosure policy here.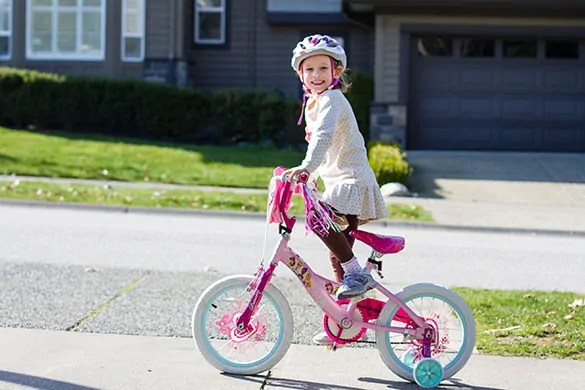 Olivia's First Bike Ride
Last spring, I bought Olivia her first bike. She was thrilled… until she wasn't. After a little tip over, (okay she took off on it at the store and crashed into a display,) she got scared and decided she wasn't quite ready for riding a bike.
All spring and summer I tried to coax her onto her bike. She would try, but within seconds she would get scared and get off.
But this past weekend, on a very spring-like afternoon, Olivia asked to go for a bike ride! YAY!!!
What a difference a year can make. Olivia had a wonderful time and even got back up after a little crash. I am so excited for her!
What is Your Weekly Photo?
Mom Bloggers (and Dad Bloggers too!) post a photo on your site, link up and find others… Wordless Wednesday is tons of fun. (And I know it says "wordless" but I usually just can't bear to not write anything! If I had created it, I probably would have named it something different! LOL So feel to link up your word-full or word-less Wednesday photos!)
Leave the URL to your photo (clearly mine are never truly "wordless") and then visit others!
Here is a thumbnail linky:
Or a basic linky:
Thanks to Uisce for creating Wordless Wednesday.
Written by Janice, co-founder of 5 Minutes for Mom