This post may contain affiliate links. Read my disclosure policy here.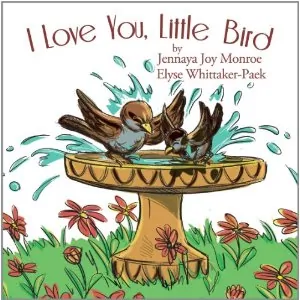 I Love You, Little Bird by Jennaya Joy Monroe is an interactive 3D app for I Pad. The app is an interactive 3D story book written for children ages 2-5 years old.  The actual book is available on Amazon.com.  You can find the interactive app in the App Store.  There are many ways you can share this beautiful story with your little one.
The conversations between Mommy Bird and Baby Bird are not unlike many conversations I have had with my own children.  Baby Bird peppers Mommy Bird with a series of questions.  Does this sound familiar to you? It sure did to me! Baby Bird asks his mommy what if questions, such as, "What if I roll in the dirt and get mud all over my face and feathers?"  As you read this question, a tiny butterfly gently flaps its wings just above the words.  When you press the arrow to turn the page, you read Mommy Bird's response.  Again, a butterfly gently flaps its wings. This time, the butterfly is perched on the edge of a pretty pink flower.  With a tap to the water fountain where two little birds are playing, water splashes and water droplets rain over the page. Mommy Bird gently tells Baby Bird, "If you roll in the dirt and get mud all over your face and feathers, then together we will wash you clean and I will still love you."
Children will love watching the interactive features on each page as they move through the pages of I Love You, Little Bird. Birds fly, butterflies flap their wings and water falls from the sky as you move through the book. In this unique app innovative 3D rendering brings the illustrations to life!  Physics controlled objects encourage experimentation which is essential to developing motor skills. This beautiful story book will help your little one grow and develop.
 As the book closes, Mommy Bird assures her baby that he is her little bird and she will always love him.   On the final page, Little Bird says, "Good," and snuggles up under Mommy Bird's wing. Tapping the tree they sleep in sends stars floating through the sky.  What a beautiful way to end this sweet story.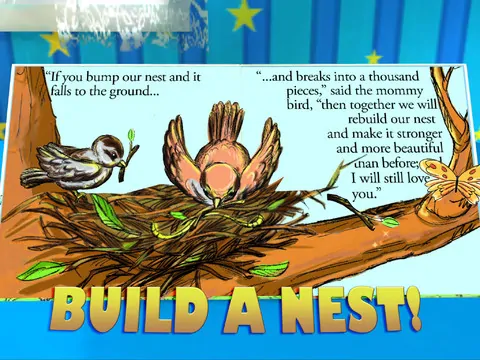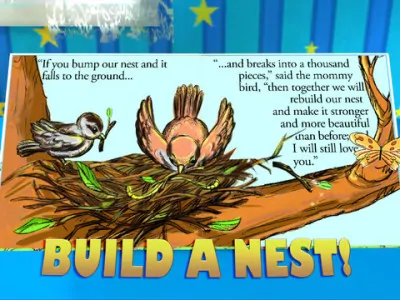 I Love You, Little Bird by Jennaya Joy Monroe is a delightful story of a mother's love for her baby. The app offers you the option to read the book yourself or have the book read to you.  The read it to me option features a friendly female voice.  Her accent is slightly British and very sweet. The read it to me option is perfect when you are driving the car or need your little one to be amused for a few minutes. As they work their way through the pages the interactive 3D features will surely keep them entertained and engaged.  Don't miss this chance to share a beautiful story with your little one. 
You can find the I Love You, Little Bird app for I Pad in the I Tunes app store for just 99 cents.  Share this beautiful story book with your little one today. 
I was provided a review copy in order to write this post. All opinions listed are my own.
Sheryl Bone is mom to three kids: Max age 14, Ella age 12, Clayton age 10 and Chewy, the family mutt.When she isn't chauffeuring kids to school or sports, she is a room mom and school volunteer, literacy activist and community arts supporter.