This post may contain affiliate links. Read my disclosure policy here.
Since learning that I will be attending the Red Carpet Premier of Oz the Great and Powerful in a few weeks, I have been scouring the internet looking for "the perfect dress." I want whatever I wear to be inspired by the movie and the characters. It just seems to make the experience more fitting.
Here are a few outfits that I found on Pinterest and Polyvore that caught my eye.
Glinda the Good Witch by lalakay featuring a bandeau dress
I love this gorgeous ensemble that represents the Good Witch Glinda! Glinda is played by Michelle Williams and if you are not sure of who she is, think Jen from Dawson's Creek. She has always been one of my favorite actresses and I would love to wear something that represents her. Plus I am in love with those sparkly shoes.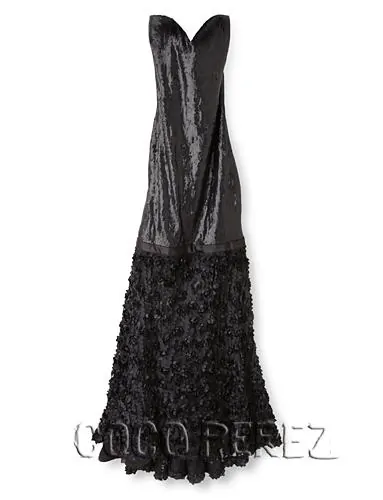 HSN will be promoting a line of clothing from some top designers on March 1st that are all inspired by the movie. The pieces definitely have a costumy feel to them, but that just makes them even more perfect to wear to the premiere!
Source: dessy.com via Jennifer on Pinterest
I am totally in love with this green dress. It is just gorgeous! This dress reminds me of the Emerald City!
 Source: rocknrollbride.com via Jennifer on Pinterest
This dress says to me "Wicked Witch", don't you think?
Oz the Great and Powerful
Disney's fantastical adventure "Oz The Great and Powerful," directed by Sam Raimi, imagines the origins of L. Frank Baum's beloved character, the Wizard of Oz. When Oscar Diggs (James Franco), a small-time circus magician with dubious ethics, is hurled away from dusty Kansas to the vibrant Land of Oz, he thinks he's hit the jackpot—fame and fortune are his for the taking—that is until he meets three witches, Theodora (Mila Kunis), Evanora (Rachel Weisz) and Glinda (Michelle Williams), who are not convinced he is the great wizard everyone's been expecting. Reluctantly drawn into the epic problems facing the Land of Oz and its inhabitants, Oscar must find out who is good and who is evil before it is too late. Putting his magical arts to use through illusion, ingenuity—and even a bit of wizardry—Oscar transforms himself not only into the great and powerful Wizard of Oz but into a better man as well.
When small-time magician Oscar Diggs (James Franco) pulls one flimflam too many, he finds himself hurled into the fantastical Land of Oz where he must somehow transform himself into the great and powerful Wizard—and just maybe into a better man as well
"Like" OZ THE GREAT AND POWERFUL on Facebook: http://www.facebook.com/OzTheGreatAndPowerful
"Follow" OZ THE GREAT AND POWERFUL on Twitter: Twitter.com/DisneyPictures
Visit the website: http://www.Disney.com/TheWizard
 OZ THE GREAT AND POWERFUL lands in theaters everywhere on March 8, 2013!