This post may contain affiliate links. Read my disclosure policy here.
One of the most memorable times of any woman's life is when she gets married. You choose the most perfect dress and in your mind, you start thinking about passing that dress on to your daughter years later down the road. Wedding dresses that have been handed down from generation to generation have a special place in my heart. It just feels like the right thing to do.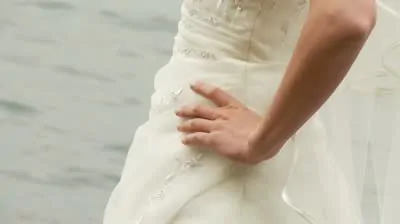 How do we keep those dresses looking new and fresh for all of those years in between uses?
Did you know that there is a company with one hundred years of experience preserving wedding gowns? This company can save you hundreds of dollars! They can restore and preserve a dress even if it has been sitting in your closet collecting dust all these years. It really is never too late to preserve your gown for future generations to enjoy.
Let me introduce you to WeddingGownPreservationKit.com, the nation's top distributor of the Wedding Gown Preservation Kit. They have been preserving wedding gowns since 1913 and are the most trusted name in wedding dress preservation.
How It Work
The process of preserving your gown is easy and stress free. Simply go online to their company website and chose from the Traditional Preservation Kit or the Celebrity Preservation Kit. If your dress is a high end dress costing over $700, The company recommends purchasing the Celebrity Preservation Kit.
The price of the kit includes delivery from your home, to the studio for preservation and back to your home along with shipping insurance anywhere in the US. The kit contains everything that you will need to have in order to ship your dress to the preservation facility. This includes the crush proof shipping box, stain stickers and a preservation bag along with paperwork and prepaid shipping label.
When your dress arrives at the preservation facility, you can track the progress of your dress using their special GownTracker™ system. The Wedding Gown Preservation Company then safely removes any stains, gently dry cleans your gown, and makes any necessary beading or hemming repairs before your gown goes through the final steps of preserving. After your gown is preserved and placed in its box, it is then placed in another waterproof, crush proof box and shipped back to your home safely for you and future generations to enjoy.
A Great Gift to Give a New Bride
The Wedding Gown Preservation Kit would also be a great gift for a bride-to-be or newly married bride so that she can rest easy knowing her gown will be taken care of and preserved after the ceremony is over. She will have her gown to pass on to her children and grandkids one day all because of your gift.
Coupon Code Just for 5 Minutes for Mom readers!
If you purchase the Celebrity Kit today and use the code 5MINMOM you will receive a complimentary Starbucks Gift Card while you patiently await the return of your dress.
So what are you waiting for?
This post is part of a promotional campaign with Wedding Gown Preservation Company. All opinions listed are our own.
Paige Bacon  is an artist, art educator, cook, mom, pet parent, runner, and backpacker. I can be found online at http://briarroseartstudio.blogspot.com and http://scottishroseartstudiollc.tumblr.com