This post may contain affiliate links. Read my disclosure policy here.
I'm a saver of stuff. Collections. Books. Letters from friends. Favorite toys. I'm not quite a hoarder, as I am very organized. Every set of items has a box, or a bag to keep the items from getting crushed.
Of course the books are stored on the book shelves in my living room. But, my collections can get a bit out of hand. Take for instance my children's school work, drawings, paintings, and writing.
Quite simply, I have a hard time parting with anything that my children have drawn, painted, sketched, or even scribbled on. I have to be a bit ruthless about what I keep to avoid becoming a hoarder! Now when it come to my children's writing I cannot be ruthless. I save practically everything. Who could toss a story scribbled in a childish hand on a piece of notebook paper? I certainly can't. But, the paper can get a bit out of hand.
With my family of writers – I'm a blogger and dad is an English-teacher-now-high-school-administrator – I was intrigued when I heard about Tellagami. I wanted to learn more and did.
Tellagami (rhymes with origami) is a quick app to create a short story. The short story created with Tellagami is called a "Gami." Once you download the Tellagami app, you or your children can create a fun short story on a mobile phone or tablet for your own enjoyment or for sharing with friends and family via email, text, or social media.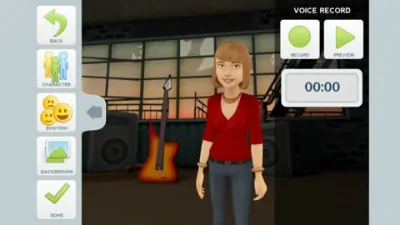 Here's how to create a Gami on Tellagami:
Download the Tellagami app from iTiunes.
Once in the Tellagami app, customize a character – choose any character you like.
Make the story your own by personalizing it with photos.
You can even add your own voice to your Tellagami story.
Once your story is created, you can share with friends and family via e-mail, text, or social media. If your child is using the app, you will want to look at the Tellagami story she creates before she shares it with others.
Here's a short video all about how to create a Tellagami story:
How does Tellagami work?
Tellagami uses 3D animation technology to bring your unique voice and personality to stories.
With the 3D animation, you can create engaging travelogues & personal updates about your family's life, hobbies, and vacations.
Create reminders for other parents, your child's teammates, carpool friends, and more of upcoming events and activities.
School students can use a Gami to make homework assignments more interesting. What a fun way to illustrate a book report!
Or you or the grandparents can create personalized bedtime stories.

What you need to know about Tellagami:
I was compensated to write this review.  The views expressed in this review are my own.