This post may contain affiliate links. Read my disclosure policy here.

We're a toon family. My earliest TV memories are of the Hanna Barbera cartoons. My husband is all about the Looney Tunes. He has an almost-photographic memory for those  cartoons. The kids are following in mom and dad's footsteps by watching any cartoons they can.
I don't have a problem with the old cartoons of the 60s, 70s, and 80s. Those cartoons were harmless. Animals chasing each other. Anvils from Acme dropping from the sky. Harmless fun. But, lately I have become concerned with the violence in today's cartoons.
The villains of the cartoons from my day were practically harmless. The bad guys in today's cartoons can be sinister and frightening. When my kids were five and under, I knew that if they were watching TV that the cartoons would be sweet tales of animals romping about, or children going on adventures. Once the kids entered elementary school, all bets were off. From the moment the kids walked in the door, I was subjected to a barrage of cartoons emanating from the TV. Of course I set screen-time limits.
Even with limits on screen time, I was bothered by the cartoons on many of the channels that they wanted to watch. Recently, I came across a channel where kids children can watch cartoons. Toon Goggles is a video streaming application where kids can watch unique, kid-safe cartoons from around the world anytime and anywhere they want. I learned that Toon Goggles — a children's entertainment online channel — offers an unlimited amount of parent-friendly cartoons that will entertain kids for hours on end.
I thought I would check it out myself, so I logged in to Toon Goggles and created a family account. I chose a cute blue astronaut bear guy as our family avatar. I wanted an avatar that would be fun for all the kids, myself, and even my husband. We sat around the computer and chedked out the Toon Goggles site. You can first choose whether you want to watch cartoons in the following categories: Boys, Girls, Action, Comedy, Preschool, or Educational.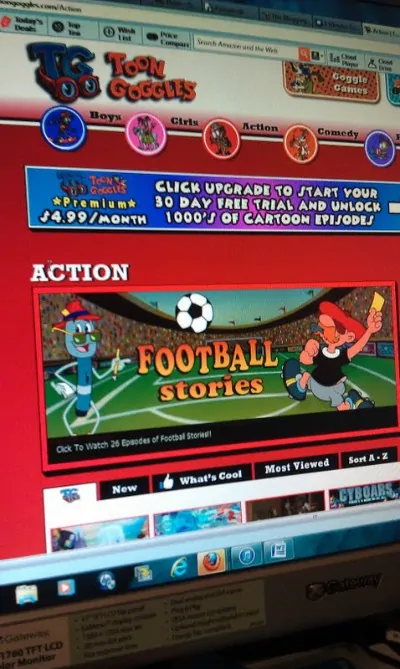 Our family's first foray in to Toon Goggles was to click on the Action Channel. We found cartoons with the titles "Lady Ice," "The Flying Squirrels," and "Football Stories." We're a football-mad family so we all agreed to click on Football Stories. We were expecting a cartoon about football, but instead it was a cartoon about soccer, which is called "football" in most of the world. Toon Goggles cartoons can come from any country, not only the United States. Nevertheless, we found Football Stories to be an enjoyable cartoon about the origins of football or soccer.
Toon Goggles shows are sorted by genre and vary in length from fun shorts to engaging episodes and full-length features. What I liked about Toon Goggles is that it is a safe and protected service for children of all ages to view cartoons. Many of these cartoons were new to me.
What's the Scoop on Toon Goggles?
Toon Googles is a free service. All your child or you need to do is create an account
All Toon Goggles free users are able to watch up to 3 episodes of EVERY show.
You can upgrade to a "Premium Membership."
Enjoy unlimited access to the vast online library through the Toon Goggles Premium Membership for $4.99 per month.
What Can You Watch on Toon Goggles?

7 different categories of cartoons including Boys, Girls, Action, Comedy, Preschool, Educational.
There's a special category "Boom Goggles," inspired cartoons created by children.
New content is added every Tuesday as part of Toon Goggles "New Toon Tuesday" promotion, including full series and features!.
All content is parent-friendly and reviewed extensively before being released.
What Can You Do on Toon Goggles?
Store your favorite cartoon episodes into the app's "Toon Box" for on-the-go viewing!
Jump to a suggested show at the touch of a button!.
Quickly get to previous and next episode in a series.
Check out what's popular, discover what's new, and browse A-Z.

Registered users can resume videos and see recently watched shows!
Create your own Toon Goggles account through the app.

Stream HQ video via 3G or Wi-Fi.
Watch Toon Goggles on your Apple TV with Airplay.
Optimized for both iPhone/iPod Touch and iPad!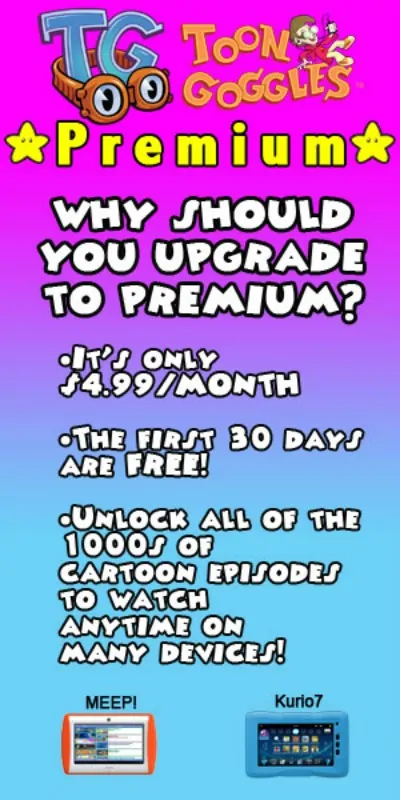 The site is also available on all smart phones and tablet computers and therefore can be viewed anywhere and at any time. You and your children can watch cartoons on Toon Goggles on the following devices:
Oregon Scientific's MEEP! Tablet for Kids for Android — The MEEP! 7 inch tablet runs Android 4.0 and comes with Toon Goggles as an embedded application.
SONY Tablet P — Experience the custom designed Toon Goggles application for the SONY Tablet P. Utilizing the dual touch screen technology, you can watch the best Toon Goggles content and browse for the next great cartoon you want to watch all at the same time.
SONY Xperia Smart Phones
SONY Xperia S
Panasonic VIERA Connect — Panasonic VIERA Connect TV allows users to enjoy movies, television programs, sports, health & fitness activities, interactive games, and a variety of other contents on a high-quality large-screen TV. From the VIERA Connect Home Screen, select VIERA Connect Market Under Applications and then select the "Kids" category.
Kurio 7 Family Friendly Android Tablet — As the Kurio 7 tablet is designed for kids, the 7-inch unit comes pre-loaded 1000's of hours of parent friendly video content from Toon Goggles.
iPhone, iPad, and iPod Touch — With the Toon Goggles Video Streaming Application, anyone can watch 100% parent-friendly cartoons when and where they want.
Mac and PC — Watch 1000's of cartoons on your Mac or PC computer.
At Toon Goggles children can create their own "facepage" and add cartoons to their Toon Shelf and even share it with their friends and make recommendations. At ToonGoggles we wanted children to be in charge of their viewing experience and watch the content they want to, when they want, where they want.
Toon Goggles is COPPA compliant (Children Online Privacy Protection Act) and has a strictly enforced screening process to ensure that all content presented is clean and safe for children to watch. If a child under the age of 13 wishes to sign-up, we highly suggest parents review the site first making sure they are comfortable with their kids browsing experience.
Go visit www.ToonGoggles.com to create your own "Toon Strip" episode queue online and to play an unlimited number of games. Note: 
Your carrier may charge data fees, so an unlimited data plan or viewing over Wi-Fi is suggested.
I was compensated to write this review.  The views expressed in this review are my own.