This post may contain affiliate links. Read my disclosure policy here.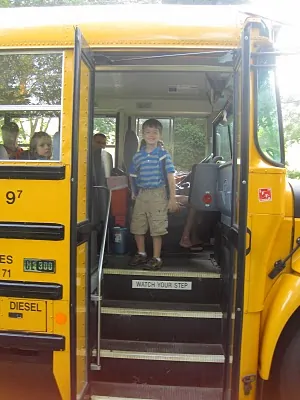 Our School, Our Home
This time two years ago, my son would have been at Sandy Hook School. I am so thankful that we've relocated back to Houston, Texas, and yet my heart breaks for my community, and I want to be there for them.
We lived there for over six years. My daughter attended Sandy Hook School in 1st through 4th grade. My son went to Kindergarten and first grade there. It is home. Some of my dearest friends are there. So while we all grieve — as a nation, as parents, as teachers and human beings who wonder how something like this could happen — I grieve as a Newtowner.
I first heard the news about the gunman in Newtown, Connecticut from one of my best friends. She sent me an email telling me to pray, because they had received a call that all schools were in lockdown because of a potential gunman. She quickly found out that the schools her children attended were safe, but my former school — the school attended by my son's buddies — was the one in danger.
I am still waiting to hear if all of my friends and acquaintances are safe. Since we have a long history with the school, and the town is small, I'm afraid that the list of the victims will have too many familiar names.
When you all see that picture, you see the fear on the children's faces and the brave calm and action of the teachers and emergency responders, but I scan the teachers and children to see if I notice a familiar face. I see the parking lot in which I parked so frequently during the years my children were there.
I know that everyone who is watching the news unfold is mourning the lost innocence of those children — all the children — and wondering what we are going to tell our own children. For me, it's hitting even closer to home. When I hear that the gunman went into the office, I can see it. It's the office I went to sign in as a library volunteer, or sign my kids out when they had to leave school. Several children were interviewed who were in the gym, and I can see that gym too, just right around the corner from the office.
I am glad that my son wasn't there that day. But it also makes me miss my home and my community there in Newtown, Connecticut. My heart and my prayers are with them. I wish I could physically be there with them as well.
Sending Our Prayers and Thoughts
All of us here at 5 Minutes for Mom are devastated over this cruel, senseless tragedy.
Our entire team sends our love and prayers to everyone touched by this horror. May we all hold our children tight tonight and pray for those who no longer can.
This post was written by 5 Minutes for Mom regular contributor and 5 Minutes for Books editor, Jennifer Donovan.