This post may contain affiliate links. Read my disclosure policy here.


We've all been there. I grew up in a strict household as far as sugary snacks went. I begged, fruitlessly, for Cap'n Crunch and Corn Pops. I was allowed about 1/2 a slice of cake on birthdays, and I was forced to take home-made chocolate chip cookies to school, instead of the Hostess Twinkies and Ding-Dongs my soul craved. But as soon as I gave my mother grandchildren, the woman's parenting style did an about-face. She started buying chocolate milk by the gallon (oh that I was exaggerating, but I'm not), stocking her cupboards with all the sugary cereal she could get her hands on, and offering candies by the fistful. Except that now, I'd joined the ranks of the Boringly Upright and Adult, and I didn't want my kids to have sugar. It was a constant battle.
I'm not the first parent to clash with her own parents over parenting the grandkids. I bet we all have our own stories.
There's a new movie out about this classic battle, and I have to say it looks really fun! Parental Guidance, starring such comic greats as Billy Crystal and Bette Midler, comes out on Christmas Day. What better way to celebrate some high-quality family time than by laughing at others family's misadventures? You won't want to miss it.
In honor of the release of Parental Guidance, the studio is offering a great gift pack for one of our readers! Win a $50 Visa card (you could treat your parents to the movie!) as well as other fun items listed below.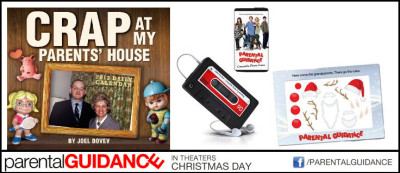 One (1) winner:
$50 Visa for a day at the movies
Retro cassette iPhone case
Magnetic photo frame
Crap at My Parents House book
Parental Guidance stars Billy Crystal, Bette Midler, Marisa Tomei and Tom Everett Scott.
Synopsis:
Old school grandfather Artie (Billy Crystal), who is accustomed to calling the shots, meets his match when he and his eager-to-please wife Diane (Bette Midler) agree to babysit their three grandkids when their type-A helicopter parents (Marisa Tomei, Tom Everett Scott) go away for work. But when 21st century problems collide with Artie and Diane's old school methods of tough rules, lots of love and old-fashioned games, it's learning to bend – and not holding your ground – that binds a family together.
The movie opens Christmas Day. Check out  the official website to find out more PLUS create your with family story with Photobucket.
Follow on @ParentalGMovie on twitter  #ParentalGuidance
Like Parental Guidance on Facebook – May the best generation win!
And you won't want to forget to enter to win! Just use the Rafflecopter below.
Elizabeth enjoys a good comedy and may very well take her in-laws (coming for Christmas) to see this one.