This post may contain affiliate links. Read my disclosure policy here.
With the holidays around the corner, many families will be piling into cars, vans, and trucks for hours on end to make the annual family holiday road trip. I've never had to travel during the holidays before but this year, because of our move, I will be joining the ranks.
I definitely do not want to spend that time breaking up fights with the kids or arguing with the husband, so here are some much needed tips that I intend on implementing during our trip home this year.
5 Tips for Holiday Road Trips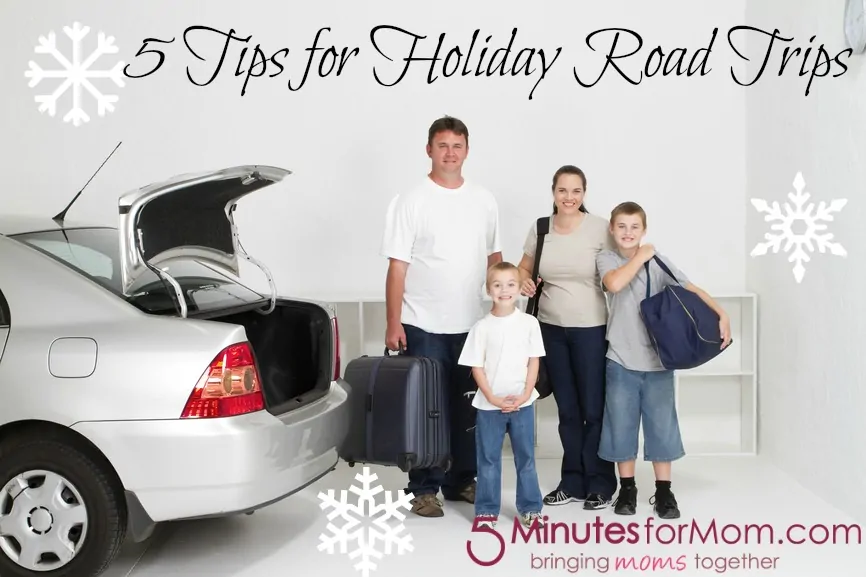 1. Make a Road Trip Playlist
Thankfully everyone in our family loves Christmas songs, but not a lot of the older tunes, so it is my job this year to create a holiday play list complete with everyone's favorite songs. I made them each write down 3 songs they wanted to hear and I will be in charge of getting them loaded.
2. Pack each person an "Essentials Bag"
An essentials bag is kind of like a small backpack that each person keeps beside them in the vehicle. Inside, each person will keep with them what they might need. For kids, this would include toys, games, coloring books, crayons. For older ones like my teens, this would include ipods, readers, netbook (notice the trend in electronics here?), charger cords, napkins, tissues, etc. For adults –everything is necessity, so pack the kitchen sink!
3. Snacks are a must
Never go on a road trip without being prepared with snacks. I hate buying all those junk snacks when we stop for gas, so I take the time to prepare snack bags for each family member before we leave. Peanut butter and crackers, fruit, trail mix, dark chocolate — the stuff that will get you by until you actually stop for some real food. By doing this, not only are you helping them to make better choices about what they are eating, but your wallet will thank you too!
4. Be prepared for upset stomachs
It never fails when we go on trips that someone is always getting sick to their stomach. If you are traveling down the highway in large traffic jams, you cannot just whip the car over and allow that child or person to take care of business. Always make sure to carry some extra bags in the car for those moments when you cannot get them to the bathroom in time. Your car and riders will thank you tremendously.
5. Always plan out your trip before starting out on any adventure
Anytime we ever go on a trip, I always make sure to map out our route on my phone using the VZ Navigator (even though my hubby uses the GPS we have, I like to have a backup). VZ Navigator is a navigation app with features school zone and speeding alerts, gas prices, and reliable real-time traffic. VZ Navigator also has natural language voice guidance, which uses traffic lights and number of streets instead of feet or meters, to provide a safer driving experience.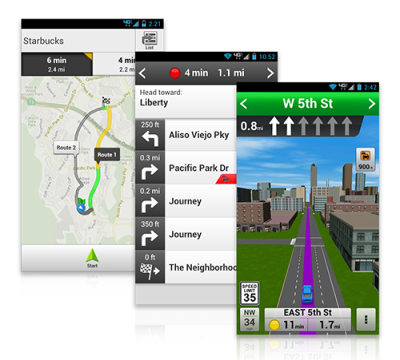 Use real-time, turn-by-turn spoken directions with street names and true-to-life images of highway and exit signs, many in 3D. Advanced navigation instructions include landmarks such as traffic lights and number of streets.
Choose your preferred route with Route Selector
Beat the gridlock with our real-time traffic
Take advantage of safety features with school zone notifications and customizable speed limit warnings
See which lane(s) to take for highway maneuvers and exits, complex street turns and intersections
Get a 30 day free trial
Verizon is offering a 30-day free trial for smartphones so that you can try out VZ Navigator for yourselves as you get ready to travel for the holidays. If you like it, it is only $2 a month after the trial expires. For more information about VZ Navigator, please visit: http://www.vznavigator.com

This post is part of a promotional campaign with VZ Navigator. All opinions expressed are our own.
Photo credit: Depositphotos.com