This post may contain affiliate links. Read my disclosure policy here.
Six months ago, my husband and I took a giant leap of faith. We've talked about this for years – twelve years, to be exact since we began discussing this option while still on our honeymoon.
Adoption was something that had been on my heart since I was fifteen and had first visited an orphanage while on a mission trip to the former Soviet Union, but it was not something that my husband had ever given a lot of thought to, so we took a long time to make the decision.
In that time, we had three children and the idea of adoption grew ever more daunting, yet somehow, neither one of us could escape the notion that such a journey might be for us. We finally decided last June to simply take a step forward. We'd waited for the burning bush long enough and realized that we may never know if this was right for us if we didn't at least try.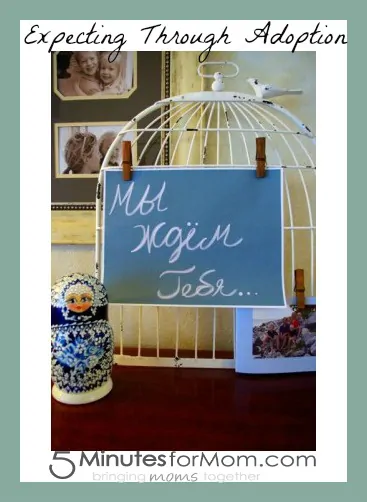 Last week, I submitted our paperwork to our adoption agency – a stack of papers as thick as my fist giving a very intimate portrait of our family. It's not considered a completed dossier yet. There will corrections to make and all of it must be apostilled before we can send it to Russia, but the fact that it's completed feels like a miracle in itself.
And just like that, as I mailed an envelope with a tiny piece of my heart inside, I felt it. It was the same feeling I got when I saw two lines on a pregnancy test.
I'm going to be a mom. Again.
This is a very unique experience, this expecting through adoption. I feel pregnant, but I'm missing the morning sickness, the insomnia, the heartburn and the expanding waistline. But the expectation is the same and honestly?
This can feel a little lonely.
Without the obvious markers of a pregnancy, I'm left alone with my thoughts and dreams and hopes for my child. And added to that is the fact that she is most likely already born and living in an orphanage, which makes my mother's heart ache. In the time it took to put a stamp on an envelope, our adoption went from an idea to a real, live person. A child.
My child.
When I was ten weeks pregnant with my third born, I started bleeding heavily. I rushed to the ER, sure I was miscarrying. I was not, but the amniotic sac had almost completely torn away from the uterus leaving my child in a very precarious position. For six weeks, I laid still on a couch, willing my body to hold on and by God's grace, the amniotic sac reattached and I have the most beautiful five year old you've ever seen.
I fought for that kid. I laid on a couch and I fought for him. He was no bigger than an apricot at the time, but he was mine and I knew I needed to protect him.
I feel the exact same warrior cry welling up in me over this waiting child. She's mine and I'm fighting. I'm fighting to finish paperwork. I'm fighting to raise money. I'm fighting to carve out a place for her in our lives and in our family. I'm fighting to do all the things I need to do so that she can come into our home. She's belongs to us – she's ours – and I'm fighting for her.
Do you know anyone who is currently in the adoption process? Can I give you a few ways you can encourage your friend as she waits?
1.  Ask her how she's feeling. Pregnant mothers get to talk a lot about their coming babies. Because it's so obvious that they're expecting, people ask, and it fuels the excitement. Adoptive parents don't have any obvious markers to reveal that we're expecting, but we want to talk about our babies. We need to to keep it real and to release the emotions of this waiting period.
2. Do you have the means to help with fundraising? Whether it be financial means, or the gift of running fundraisers, or creative ideas and talents to help raise money, know that those of us in the adoption process are all ears and would love the help. Adoption is expensive – incredibly expensive in some cases. You have no idea how grateful we are for people who understand and want to help.
3. Celebrate the milestones. I have great friends who have encouraged me to celebrate the little joys along this journey. Mailing out the first round of paperwork was a big milstone and it made me feel so loved when others rejoiced with us. It's good to know we're not alone on this journey and that we've got people cheering on the sidelines.
4. Love on adoptive parents. This is an incredilby draining and discouraging process. Hundreds of pieces of paper must be filled out in a precise manner and one mistake can mean more time lost, more dollars spent and more stressful paper trails to chase. When you meet someone who is adopting, show excitement. The positive praise of others has been the only thing that's kept me moving forward on this journey.
5. Encourage adoptive parents. Not everyone is supportive of this sort of family planning. Sometimes, we can feel like we need to somehow defend why we've chosen to take this path and there may be little defense other than, it just feels right. Knowing we are supported makes it feel a little less crazy to raise thousands of dollars and cross an ocean three times in order to bring a baby home.
It's good for my husband and I to know that our daughter has a lot of people fighting for her. Until we bring her home.
What about you? Are you an adoptive parent? Do you have any tips to add to this list? How can we support you?