This post may contain affiliate links. Read my disclosure policy here.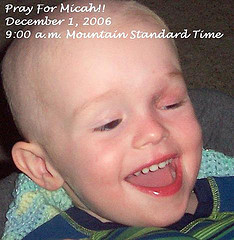 Today we are joining in prayer for a sweet little boy named Micah, who is very ill and undergoing treatment for cancer.
Dear Lord,
Thank you for Micah and for the love he has brought his family. We praise you for lovingly creating him and we ask you to heal his tiny body. May you ease his pain and bring his healing quickly Lord. Please comfort and strengthen his family.
We also pray Lord that Micah will be home with his family this Christmas and able to enjoy the time without pain or discomfort.
We pray that Micah's liver and intestines will return to normal function and size and that Micah's fever will go down and his blood cells will return to normal
Thank you Lord, for our hearing our prayers. We know you love Micah and that you are with him and his family.
In the powerful name of Jesus Christ we pray.
Amen.
If you would like to join us in prayer, please visit Kristen's blog post and sign the Linky.