This post may contain affiliate links. Read my disclosure policy here.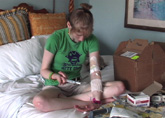 I only had a hazy fear of Lyme disease up until today. Summer vacations at our cabin in the woods always included my mom checking our hair for ticks, a tradition I still carry on with my young son, but I didn't know much about the disease. I just knew to be concerned and look for the little black bugs. I had no idea how many lives this disease had ruined or how difficult it can be to diagnose and treat.
But tonight I read Jessica Duquette's informative post about Lyme Disease and I was shocked. I spent two hours reading different sites educating myself about this controversial disease.
Jessica linked to an upcoming documentary by Open Eye Pictures called Under Our Skin – The Untold Story of Lyme Disease. This groundbreaking film investigates:
…the shocking human, scientific, and political dimensions of Lyme disease. As the film delves into the lives of those who have been inalterably changed by the disease, a haunting picture emerges of our health care system and its ability to cope with a biological terror already lurking under our skin.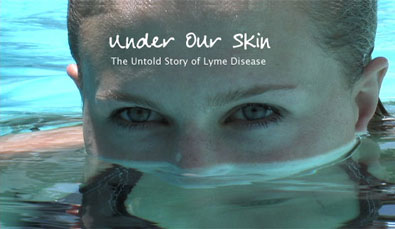 Click here to see the movie's incredible trailer.
For a quick overview of Lyme Disease click here and here. Another great resource is a site called Living With Lyme.
I'm grateful that Jessica brought this important information to my attention — I didn't realized how serious the epidemic of Lyme Disease is. I think it is critical that we all help spread the word as so many of us still remain uninformed about the threat, diagnosis and treatment.
Have you or anyone you know been affected by Lyme Disease? Do you live in one of the high-risk areas of the continent?