This post may contain affiliate links. Read my disclosure policy here.
Looking for the perfect swimsuit?  Look no further than Bleu by Rod Beattie.
I wore the Let's Get Graphic Bandeau top and skirted bottom from Rod Beattie's latest collection on a family vacation to Florida.  I was thrilled with the fit, style, and function of this swimsuit.  Comfortable enough to wear all day, this swimsuit exceeded all of my expectations.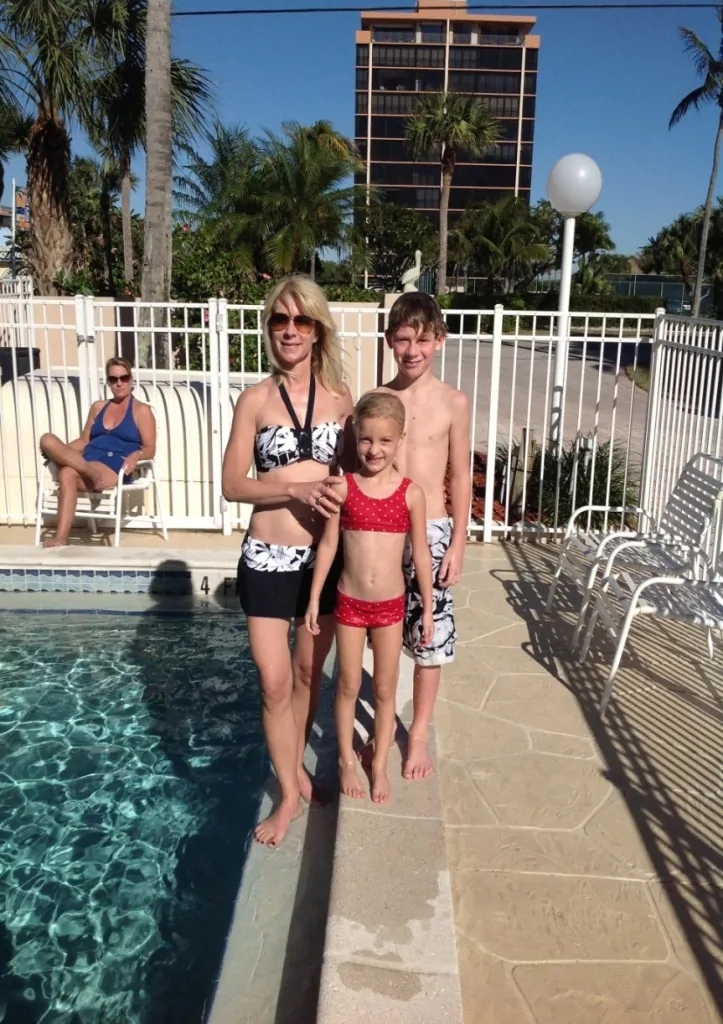 Bleu by Rod Beattie was launched last year.  Beattie describes the line as having clean contemporary lines, brilliant saturated color and a bold graphic approach. "My customer is modern, sexy and wants a great fitting swimsuit whether it is a maillot, tankini or bikini," says the designer.  "She is a chic woman… of any age." As a middle aged mother of three, I was skeptical about being able to pull this suit off.  I don't usually feel chic or sexy in a bathing suit. I am delighted to report that I felt good in this suit!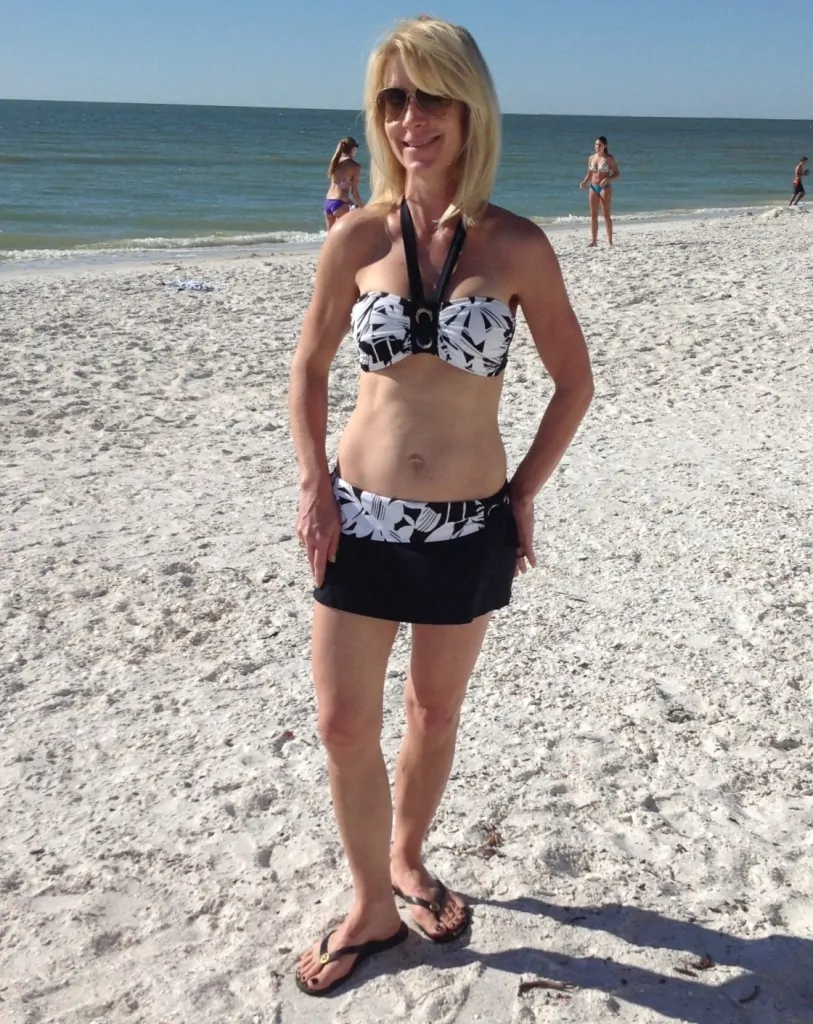 A swimsuit for a mom has to be good looking and functional.  I gave this swimsuit a workout.  I wore it to the beach, where we swam in the ocean and played in the sand.  The fitted bottom of the skirted suit stayed in place and provided perfect coverage, even when bending to examine shells. The skirt provides the right amount of coverage without looking frumpy.   After the beach, I hit the pool in my Bleu by Rod Beattie swimsuit.  I played "lemonade" and lost an underwater handstand contest.  The top stayed in place, the ties didn't come loose or undone, even underwater and upside down.
I spent an entire day boating in the swimsuit.  I jumped on and off the boat, grabbed lines and pulled up the anchor. I walked across a sandbar at low tide, watching my son pull up critters. The swimsuit kept up with me beautifully.  I couldn't be more pleased with the comfort and function of the Let's Get Graphic bandeau top and skirted bottom.  If this style isn't for you, don't worry.  The newest collection from Rod Beattie has many beautiful options that will give you the same comfort, style and function.  Visit the New Looks section of the Bleu by Rod Beattie website to explore the options available.
Rod Beattie swimsuits are high quality. The colors and prints are bold. The fabric is beautiful, soft and dries quickly.  The Let's Get Graphic Bandeau and Skirted bottom features decorative silver grommets.  They did not scratch or smudge, despite lots of activity and sticky, sun screened hands.
Fit can be a major concern when selecting a new swimsuit.  I typically buy my swimsuits one size larger than my clothing.  I followed my usual formula and the suit fit like a glove.  If fit is a concern, Rod Beattie's website has a Style and Fit Tips page to help you chose the best suit.
If you need a new swimsuit, visit Bleu by Rod Beattie.  Check out my favorite, or find the perfect one for you. You won't be disappointed.
I received a swimsuit in order to write this review. All opinions listed are my own.