This post may contain affiliate links. Read my disclosure policy here.
This Texas Sushi (aka Chipotle Bacon Pinwheels) appetizer recipe is easy to make and all your family and friends will love it. This pinwheels recipe is perfect for game day and other casual parties and get-togethers with your friends.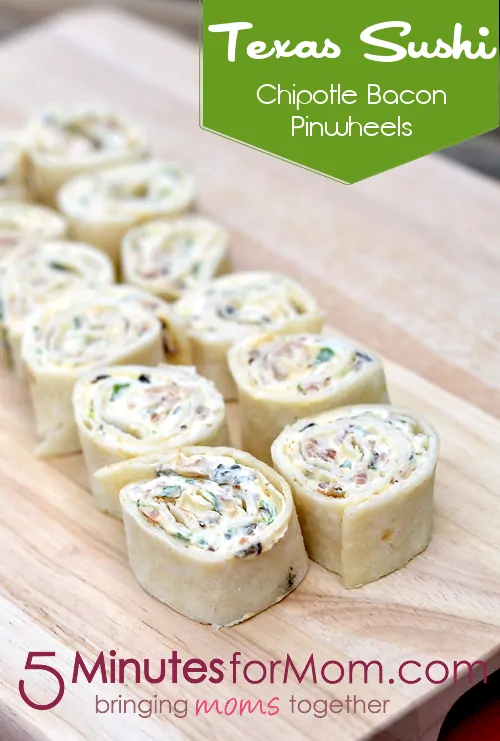 If you're looking for a winning appetizer, you can't go wrong with this Texas Sushi Pinwheels Recipe. In less than 10 minutes, you can whip up these tasty appetizers.
This recipe has been one of one of our all-time reader favorites ever since Rachel Lacy contributed this post for us here at 5 Minutes for Mom back in 2012.
Game Day Appetizer – Texas Sushi Pinwheels
If you know anything about college football, you know that there was a BIG upset this past weekend … a HUGE upset.
And I think my husband is STILL dancing with joy over it.
Picture it: my house in College Station, Texas (home of the Fightin' Texas Aggies), our visiting family and my husband all wearing their Texas A&M attire, grown men JUMPING UP AND DOWN and darn near crying as they realized their team had upset #1 Alabama.
(Later, as we went on our first date night in months, the game was just about the only topic of conversation.  The. Only. Thing. We. Talked. About.)
But, I'll admit, it was fun — having my husband's entire family over, kids running around and playing, cheers and intermittent groans coming from the living room. I love having family in our home and cooking for them, offering food that will energize their bodies and spirits for stress of watching a game on the television.
Chipotle Bacon Pinwheels Recipe
This pinwheels recipe for Texas Sushi (aka Chipotle Bacon Pinwheels) was a flavor experiment; this past summer, I had the chance to work with a professional chef during a camping excursion. He introduced me to Chipotle Tabasco sauce and, swoon, my world hasn't been the same since. It isn't fiery hot like some pepper sauces; instead it's got a rich, smokey flavor with the perfect, enjoyable amount of heat.  And it's awesome on nearly everything you put it on or mix it with. Promise.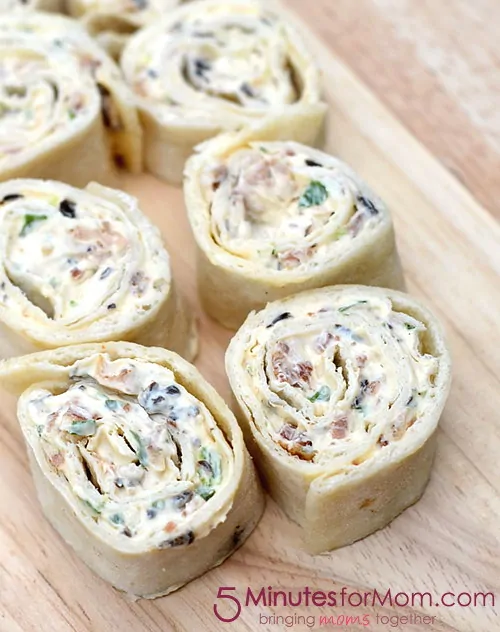 Using only eight ingredients, these pinwheels pack a punch of flavor thanks to that smokey, tangy flavor of the Chipotle Tabasco, crisped bacon, and fresh green onions.  Mix it all up and slather it on fresh (or premade) flour tortillas.  You can pile as much of the cream cheese mixture as you wish — I kept mine relatively thin and "bite-sized" since I was feeding kids in addition to the game-obsessed adults.
Warning: be prepared to fight eating ALL of them as you make them.  They are addictive!!!!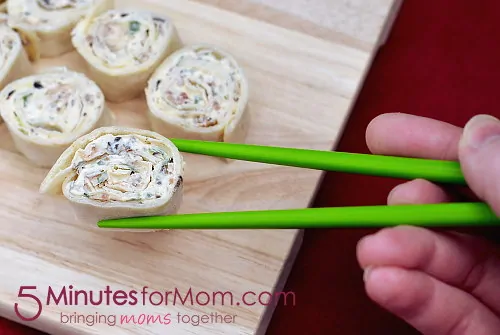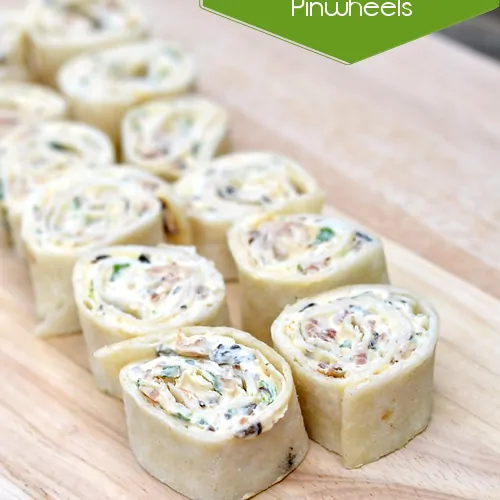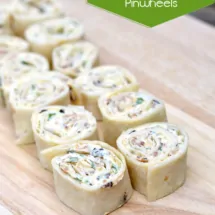 Texas Sushi: Appetizers In Under 10 Minutes
Easy and delicious! Perfect for a few or a crowd.
Print
Pin
Rate
Ingredients
1 8- oz block of Cream Cheese
1 Tablespoon of Chipotle Tabasco Sauce
3 cooked pieces of Bacon crispy stage, chopped
3 Green Onions chopped
1 Tablespoon of Chopped Black Olives
Cracked Black Pepper to taste/optional
Flour Tortillas
Instructions
In a bowl, stir the cream cheese to soften and break it down.

To the softened cream cheese, add the Chipotle Tabasco sauce and mix well till fully incorporated.

Next, stir in the chopped bacon, chopped green onions, and chopped black olives.

Add cracked black pepper to taste.

Spread 1-3 tablespoons of the mixture onto a flour tortilla and then roll it up, tightly.

Using a sharp knife, slice the rolled tortilla into 6-8 "pinwheel" slices. Discard (or eat!) the ends.

Arrange the sushi on a plate or platter; cover with plastic wrap and refrigerate until ready to serve.
Notes
The cream cheese mixture can also be made ahead of time and stored (covered) in the refrigerator until ready to assemble.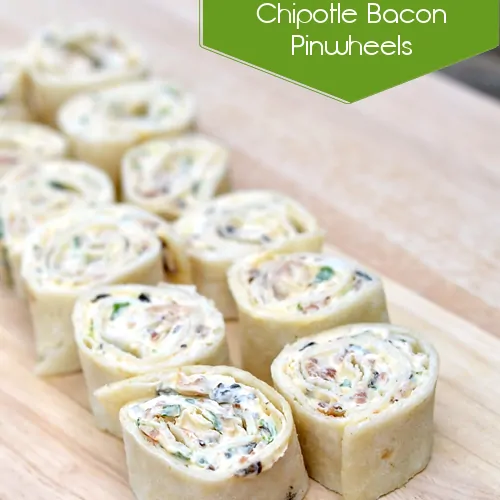 I hope you and your friends love this pinwheels recipe as much as we do!