Print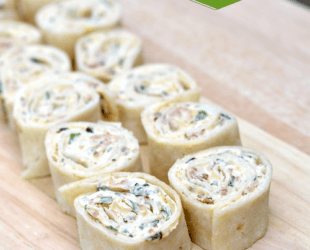 Texas Sushi: Appetizers In Under 10 Minutes
Easy and delicious! Perfect for a few or a crowd.
In a bowl, stir the cream cheese to soften and break it down.

To the softened cream cheese, add the Chipotle Tabasco sauce and mix well till fully incorporated.

Next, stir in the chopped bacon, chopped green onions, and chopped black olives.

Add cracked black pepper to taste.

Spread 1-3 tablespoons of the mixture onto a flour tortilla and then roll it up, tightly.

Using a sharp knife, slice the rolled tortilla into 6-8 "pinwheel" slices. Discard (or eat!) the ends.

Arrange the sushi on a plate or platter; cover with plastic wrap and refrigerate until ready to serve.
The cream cheese mixture can also be made ahead of time and stored (covered) in the refrigerator until ready to assemble.