This post may contain affiliate links. Read my disclosure policy here.
Or at least Jackson thinks so!
Last night the snow started falling and it still hasn't stopped. With the white stuff piling up, Jackson is convinced that Santa is readying up his sled. As far as he is concerned, it won't be long until Rudolph and his crew land on his roof and unload his bounty. I mean snow = Santa, right?
Well, not only will Santa not be arriving soon, but we may soon be enjoying the snowy scene by the glow of a candle. Our power keeps surging and the news says that transformers are blowing out everywhere. By some twist of fate we didn't lose power in the last storm, while the majority of our cities and even our neighborhoods were stuck in the dark for hours and days.
I can't imagine we could get so lucky twice!
So before I am trapped in a powerless house, longing to get online, here are a few pictures.
Last night when the snow started falling, I thought we better get out and enjoy it while it lasted. So often it is raining by morning around here. So Jackson changed from his pajamas to his snow gear and out we went. We played till 10pm!
But to our surprise, we got even more snow today. So out we went again! Jackson and Phil shoveled the driveway, but of course they had to break for a little fun.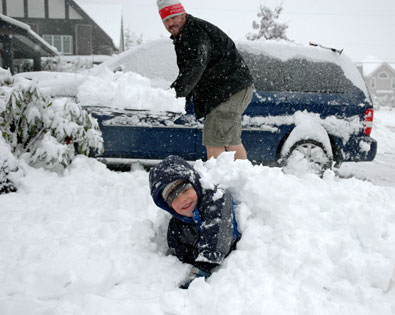 Tonight while Julia was over to play, Jackson wanted to go out again. So we bundled up and headed out for some more winter fun.
Julia however, was completely unimpressed with the snow. After a few minutes, she began to whimper and we had to bring her in.