This post may contain affiliate links. Read my disclosure policy here.

Yes, I am wearing no makeup and hair curlers in the following video. I posted this video on our new site called Say It Face To Face and I want to hear your response!
So tell me how you feel about being on video… click here to reply.
Btw, do you want an extra $250 cash? What about $500? You might get it…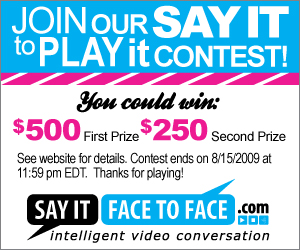 All you have to do to enter is set up your account on SayItFaceToFace.com and start using the site.
On August 15th at 11:59 pm, the user who has the largest number of conversations and replies will win the first prize — $500 cash. And second prize — $250 cash — will go to a randomly drawn user. (Don't worry, we'll disqualify anyone who makes spammy conversations or replies.)
Written by Susan, co-founder of 5 Minutes for Mom
You get our RSS feed, right?