This post may contain affiliate links. Read my disclosure policy here.
If you have any leftover Halloween candy, these shortbread candy bars are the best, most delicious way to use up all those fun size bars still sitting in your candy bowl.  Of course, shortbread bars don't reduce the temptation of sweets from your home, but they sure are fun to share with friends.  No one can resist these tasty treats!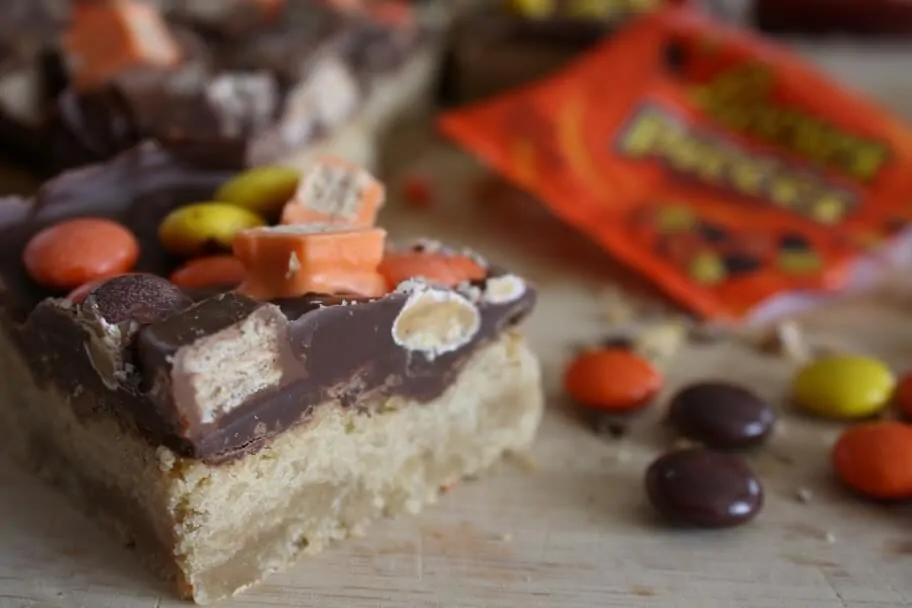 This recipe is so simple and foolproof for the non-baker types, but don't be surprised by the outcome.  These shortbread bars have more of a buttery, chewy blondie texture rather than a crisp traditional shortbread cookie.
I made these shortbread candy bars after Easter to rid my house of chocolate bunnies and candied coated chocolate eggs, but the beauty of these bars are all the different varieties that can be created.
During the holidays, try adding add a teaspoon of peppermint extract to the batter and crumbled candy cane Kisses on top to capture the flavors of Christmas in every shortbread bite.  They're guaranteed to be the hit at any gathering or cookie swap!
But for now, we'll stick with the basic fall colored shortbread candy bars.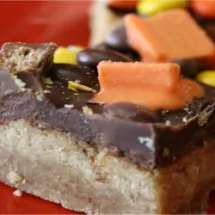 Shortbread Candy Bars
Buttery, non-traditional shortbread with a cake-like texture
Print
Pin
Rate
Servings: 16
Ingredients
Ingredients
1 cup 2 sticks unsalted butter, room temperature
3/4 cup packed light-brown sugar
1 ¼ tsp coarse salt
2 cups all-purpose flour (spooned and leveled)
1 cup semisweet chocolate chips (
2 cups assorted chocolate candies or roughly chopped candy bars or pieces
Instructions
Preheat oven to 350 degrees. Line an 8-inch baking pan with non-stick aluminum foil.

Using an electric mixer, beat butter, brown sugar, and salt on medium-high until light and fluffy, 3 minutes. With mixer on low, add flour in three additions and beat until combined (dough will be crumbly).

Press dough evenly into prepared baking pan. Bake until golden brown and firm, 30 to 35 minutes. Remove from oven a set on cooling rack.

While shortbread cools, melt chocolate in double-boiler. Once melted completely to a creamy and smooth texture, pour over shortbread. With a spatula, spread chocolate evenly over shortbread. Scatter candy pieces over top.

Refrigerate briefly to set chocolate, about 30 minutes.

Cut into 16 bars.