This post may contain affiliate links. Read my disclosure policy here.
Have you noticed when you meet a blogging friend face to face, your friendship leaps miles forward?
Talking to someone face to face is powerful. That's why bloggers meet up at conferences like BlogHer.
But we can't be jumping on airplanes every day, so we've created a site that is the next best thing.
It's called Say It Face To Face and it's all about "intelligent video conversation".

The idea is anyone can start a conversation and anyone can reply to a conversation. It's structured around topics so you can talk about what really interests you and have some cool, meaningful conversations — all on video.
These are threaded video conversations and are open for everyone to see and join in. So you don't have to already have a network of 1000 friends to get into the conversations… just take a look at the topics you want to talk about and either start a new conversation and/or reply to an existing conversation.
By the way, these aren't real-time chats… they are more like vlog posts where anyone can post a vlog entry and reply with a vlog response.
The videos are hosted on YouTube so it's also a great way to build up views on your existing YouTube channel.
We're launching the site in Beta and we're having a fun contest to help encourage you to get active starting conversations and replying.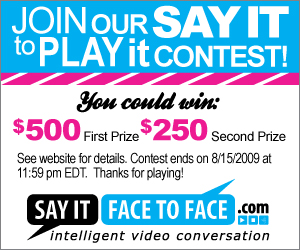 All you have to do to enter is set up your account on SayItFaceToFace.com and start using the site. On August 15th at 11:59 pm, the user who has the largest number of conversations and replies will win the first prize — $500 cash. And second prize — $250 cash — will go to a randomly drawn user.
But don't start making spammy or totally lame conversations or replies, because we'll have to disqualify you. The key to this site is that we want to enable quality conversations. So if you're just trying to pump up your number of conversations and replies with crappy content, you'll lose your chance to win. We reserve the right to judge what is disqualified… but just be reasonable and don't try to scam the system and you should be safe.
Okay, so let's start talking… face to face!