This post may contain affiliate links. Read my disclosure policy here.
It is time for BlogHer Business '09!

This year, the BlogHer Business Conference is on Thursday, July 23rd, one day before the main BlogHer conference begins. Since we didn't have to make an extra trip, Susan and I decided that we definitely wanted to be at BlogHer Business this year. But, to save money, we decided that just I would attend.

So today, while I am soaking up all the knowledge and networking I can, I wanted to tell you about my fabulous Mompreneur sponsors who helped cover some of my costs for this event.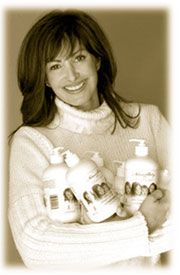 Adena, founder of Nature's Baby, is a mom who turned her desire for safer products for her family into a business! Her company, Nature's Baby manufactures and distributes organic hair and skincare products. The product line is available online at Nature's Baby, and at Target, Target.com, BabiesRus, Whole Foods and more!
It all started when Adena's one year old daughter broke out in a rash and Adena began researching the ingredients in skincare products. She was horrified by what she found. "I developed this product because I couldn't imagine putting chemicals on my babies delicate hair and skin. My whole family adores Nature's Baby and I know yours will too."
While Adena developed her line with children in mind, the products are actually ideal for the entire family. If you or your children have sensitive skin, Nature's Baby says, "You can rest easy in knowing that all of our products have been formulated and tested for infants, children and adults with eczema and sensitive skin. These very conditions are what inspired us to produce our natural and organic products."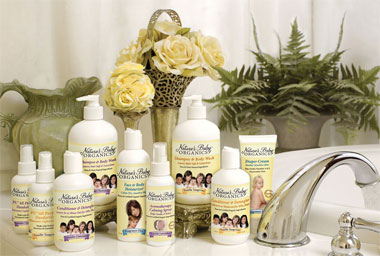 I am so impressed with Adena and what she has accomplished with Nature's Baby! I am honored to have her as my sponsor for BlogHer Business '09.
Now it's time for some giveaway fun! Nature's Baby is providing the ENTIRE line – a value of $200! – to two lucky winners!
Yes, we will have TWO contests running, one here and one on Twitter.
To enter for the contest here, let us know in a comment below what product of Nature's Baby you most want to try and we will pick a random winner in two weeks.
AND
To enter on Twitter, tweet about which product you most want to try with the hashtag #naturesbaby and we will draw a SECOND winner from those Twitter entries.
SO – to recap – there will be TWO contests, one here and one on twitter, each with one winner receiving a the FULL LINE of Nature's Baby products.
We will draw the winner from the first contest here from the comments. And the second winner will come from the contest on Twitter, that we will draw from tweets with the hashtag #naturesbaby.
In both contests, you need to visit Nature's Baby and tell us which product you most want to try. And in the twitter contest, in addition to tweeting with the hashtag #naturesbaby, you need to also follow @naturesbaby.
We will announce both winners, here and on Twitter, August 8th.
Please see our site's Terms and Conditions of Use for a complete list of our contest and giveaway rules.
Thanks again Adena and Nature's Baby for sponsoring me at BlogHer Business '09!
Written by 5 Minutes for Mom co-founder: Janice Croze