This post may contain affiliate links. Read my disclosure policy here.
When I was 12 years old, I went trick or treating with my friends for the first time, all by myself. My parents decided that I was old enough to go alone and I was so excited to finally be grown up enough to be out without my parents right by my side. In my mind, this was going to be a night of pure bliss.
What I didn't expect was that my friend would wind up being hit by a car that night because the driver was fiddling with his radio and didn't see us group of girls walking across the street. She was rushed to the ER for emergency care, but thankfully she pulled through just fine with only a few bumps, scratches, and bruises. It's something that I will always remember on Halloween night.
Kids have a greater chance of being fatally injured by a car on Halloween than any other day of the year, including the Fourth of July and New Year's Day. State Farm® teamed up with research expert Bert Sperling of Sperling's BestPlaces to better understand the risk kids face as they take to the streets in search of treats.
Here are 7 ways that you can help ensure that your children as well as other kids in your neighborhood are safe when they are out trick or treating on Halloween. Fatalities double every year on Halloween, so let's make sure we do our part to keep those numbers down this year.
Be on alert for children running in between parked cars and crossing the street in the middle of the block.

Avoid tailgating. The car in front of you may be following along with children as they trick-or-treat.

Use your car's hazard lights to alert other drivers if you are dropping off your children.

Avoid distractions while driving. Turn the radio off, put away the smart phone and pull over if you need to direct attention to kids in the back seat.

Remember to slow down, especially in residential areas.It's not worth jeopardizing your safety or the safety of our children.

Leave early. From school and local park district activities to neighborhood and family parties, Halloween can be an action-packed day. Leave yourself plenty of time so you don't have to rush. Ten or fifteen extra minutes can make a big difference.

Encourage your children to carry a flashlight or wear reflective gear on their costume so they are more visible to people who are driving. And make sure their costumes aren't too long causing them to trip while crossing the road. If you're having a tough time finding a well-fitting costume, perhaps try making your kids DIY halloween costumes or even just a quick set of DIY animal ears.

If you want to know more about the research that was done and how many fatalities actually occur every year, check out this Halloween infographic.
Family Fun Halloween Ideas
We love sharing ideas for recipes, crafts, and activities you can enjoy with your kids. Try some of these Halloween activities…
Pin it for Later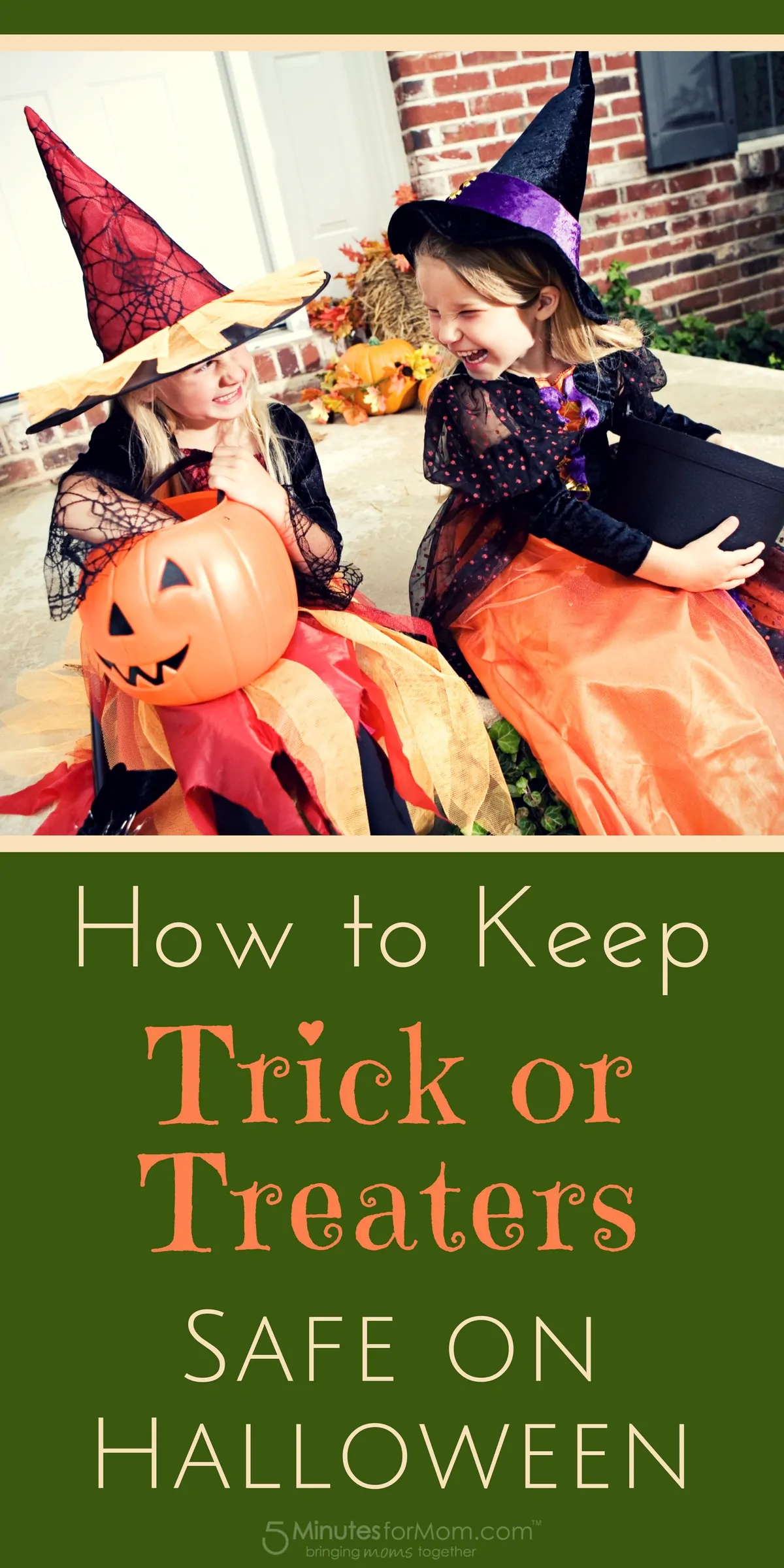 Written by Jennifer Sikora exclusively for 5 Minutes for Mom with information provided by State Farm, the nation's leading auto insurer. They teamed up with research expert, Bert Sperling of Sperling's BestPlaces, to better understand the risks kids face as they take to the streets in search of Halloween treats. Analysis of 21 years of data reveals the risk of a fatal child pedestrian accident traditionally double on October 31. We originally published this post on Oct 29, 2012, and we've updated it now to help us all again keep our kids safe on Halloween.