This post may contain affiliate links. Read my disclosure policy here.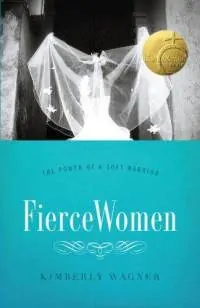 Fierce Women:The Power of a Soft Warrior
is marketed as a book that highlights the Biblical value of women, particularly those who are more "fierce" in their natures. To be honest, I wasn't completely sure that I wanted to read this book. I am a rather strong-willed woman and have "fierce" tendencies. My parents always said of me (and still do): "she's no wilting violet." That's pretty much the truth and I've spent most of my teen and all of my adult years trying to exercise self-discipline, primarily in the area of how I communicate with others. I'm always willing to submit myself to solid Biblical teaching in how I can both tame my tongue and curb my natural impatient tendencies. The true fact of the matter, if I am bluntly honest with myself, is that I like to play God. He really ought to check in with me every now and again to see how I would like things done and in what time frame. But He doesn't because He doesn't have to. I need to get over myself and submit myself to His will way more often than I do. It is a very sinful habit of mine.
Because I'm desperately in need of firm teaching and direction on how to curb my sinful tendencies (of bulldozing over other individuals) I wanted to read this book. At the same time, I was a little worried that it was going to be to "fluffy" – not offering much in the way of scriptures and would focus in on becoming a tough macho woman. See, I don't want to be tough macho woman. I want to be a wise one with firm convictions and a heart that belongs to the Lord, all while having courage to do the things God has called me to. But I feel that more often that not, Christian book publishers are giving me fluffy pep talks about how to beat my chest and conquer the world. I don't feel like that's my calling and yet – here I am – with a very strong will and determined personality.
I am happy to say that Fierce Women
is not fluffy. It is written by Kimberly Wagner who is, herself, a "fierce" woman. She confesses right at the beginning of the book (and all throughout) that she is writing this book after being humbled. You see, her personality was so strong that she ruled the family, the atmosphere of the home, and drove her husband into a state of depression.
Then God.
Although she had been warned by other women that she had a problem in the manner she addressed others, she ignored them until a moment when God revealed her sin to her and changed her heart – turning it both towards the Lord and then her husband. Wagner had to die to self, which is a very painful death as some of you very well know. She encourages her readers in a thoughtful, wise and scripturally-based manner to do the very same. She graciously tells her personal story and offers direction for how fierce women can die to self, act in love, respond properly and practice self discipline in their behavior to graciously respect, honor and love their husbands. This is not a book that tells you how to conquer the world – but admonishes you to repent of your harshness and make way for Jesus to work in you and conquer sin. This is a message I can get behind, learn from, and share with others.
I think having a strong personality is a blessing. For one thing, my type of personality has plenty of self-confidence and that is a treasure in today's modern society. But while my personality has its strong points, it also has its weaknesses and it's important that I see those weakness, call them what they are, address the sin and submit myself to Christ.
If you have a strong personality, you will likely be interested in this book. (If you know of a strong personality, be careful before just handing her this book. Lead her to it. Slowly. And subtly.) I am very happy to say that Moody Publishers has offered TWO copies of Fierce Women
.
Thank you, Moody Publishers, for providing a copy of this book to myself in exchange for my honest opinion.
Carrie provides book reviews from a Christian worldview over at Reading to Know.