This post may contain affiliate links. Read my disclosure policy here.
One thing I have noticed as a busy Sandwich Generation mama is that life goes on regardless of the load I carry. Having two busy kids with a ton of friends, there is always a birthday party or some special function in the works.
I simply do not have time to dash out every time I need to get something so I established a Gift Station in my home. I cleared out a hallway cupboard and put all of my gift-wrapping supplies in clear plastic boxes of various sizes.
It has saved me a million times, so I would like to share it with you. Here are some of the tricks I used:
Find a location where all of the components can be housed in the same area.
In a cabinet
Under the bed
A storage shelf in the garage
Gather your supplies.
Wrapping paper
Gift bags
Tissue paper
Ribbon and bows
Shredded paper for gift bags
Put all of your gift wrapping equipment together.
Scissors
Tape
Pens and pencils
Hole punch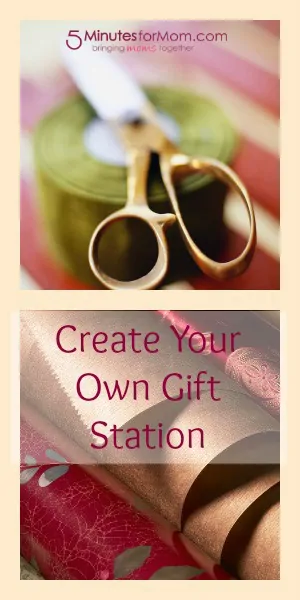 Don't forget the cards.
Order blank birthday cards in bulk
Invest in multiple occasion cards too
Pick up some generic gift tags when they are on clearance
Prepare for long distance gifts.
Sturdy boxes
Mailing tape
Labels
Markers
Address book
After I had all of my materials in one location, I labeled each box so that my family could find what they need as well. I also purchased small gifts and I keep them on hand for last minute functions. Some of the items include:
Frames
Candles
Gift cards in small increments
Stationary
Electronic games
Now I am well prepared and ready for whatever comes our way. Hope these suggestions help to jumpstart a gift station for you!