This post may contain affiliate links. Read my disclosure policy here.
When is the last time you went food shopping? When is the last time that you threw away leftovers, expired food, or tossed another bag of that bagged salad that turned brown before you could eat it?
For me the answers are yesterday, yesterday, and probably tomorrow unless I finish the bagged spinach tonight. I cannot tell you how many bags of salad I've thrown out and the guilt I harbor over it.
October 16 is World Food Day, a day to remind people they can help to take action in a global movement against hunger. There are some very simple ways to join the movement – in fact you're probably doing a lot of them without knowing it!
Every night a billion people on this planet go hungry and not because there's not enough food, but because the food system needs help. That's one in seven people. How is that possible?
Change doesn't only have to start with large donations of money or airlifting food to impoverished nations, instead it can start very simply, right at your own dinner table with five super-simple changes, changes that you and I can make and probably already are doing.
Here are Oxfam's GROW Method Inspires Change on a Global Scale In 5 Simple Steps: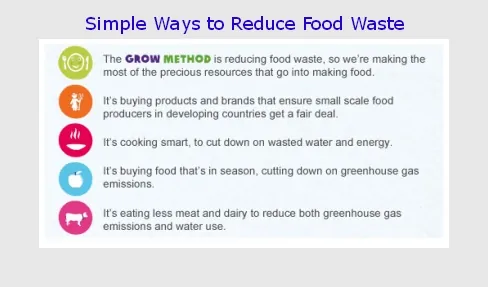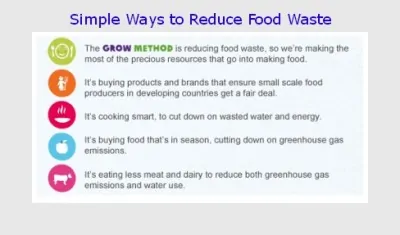 Some ways to do this are:
Better meal planning, saving the leftovers and making new meals with them, and saving the waste for composting.
Making sandwiches instead of using the stove, cooking with the lid on the pot to reduce energy, barely covering veggies with water while cooking instead of filling pot to the top, baking multiple things at once to cut down on water waste and save fossil fuels.
Trading out one dairy meal per day or one meat meal per week (or both!)
"Livestock production uses 8% of the world's clean water supply."- According to Oxfam.
Oxfam International is an international confederation made up of organizations around the world in 90 countries working to build a future free from poverty and inspire a global movement for change.
Yes, these are all fine and great you say, but how does this actually help other people? Good questions!
"Taking the time to try any of these simple principles will really help people around the world who are struggling to grow food because of over demand for essential resources – like land and water – and changing weather patterns due to climate change.

Collectively, we have the power to change things."
We need to grow more food, but we also need to allow the earth to regenerate its fossil fuels and precious resources. Over time, we have to accomodate a population set to hit 9 BILLION by 2050 and we won't have enough food or resources to grow food if we continue at the rate we're going.
Changing the way we buy food, and consume food, can have a direct effect on how much food is available for those 9 billion people, which will, indeed, include many of us and our children.
SO – do you already do any of these? How can you apply any (or all) of these principles and do you already?
Like Oxfam on Facebook.
Join the conversation on Twitter during #GROWweek and follow Oxfam on Twitter.
And head over to the Oxfam Pinterest board to find amazing recipes that fit all of these principles, and ways to make use of all those leftovers.
Disclosure: This post (and my sharing on social media) was inspired by my participation in a compensated program initiated by Women Online/The Mission List to raise awareness aboutOxfam America's GROW Method. All commentary and opinions are, of course, my own.