This post may contain affiliate links. Read my disclosure policy here.
…well, their laptops are!
Our BlogHer 09 Sponsors

We are so excited to announce that Toshiba is sponsoring our 5 Minutes for Mom team at BlogHer 2009!
A few years ago, my husband and his business partner bought Toshiba laptops. They were impressed with the affordable prices of Toshiba laptops and the positive feedback they had heard, and so for them it was an obvious choice. I had never used a Toshiba laptop and so I was curious to see how it performed — and I have not been disappointed.
My husband (and I) love his Toshiba! It has been a dependable machine, (that I borrowed for a few weeks when my previous laptop crashed, taking all my data with it!)
So, we are thrilled to have Toshiba as our BlogHer 09 sponsors!
AND we are even more excited that Toshiba is including the BlogHer 09 attendees in the Toshiba fun at BlogHer…
A Special BlogHer Contest
During BlogHer, we will be having a special Twitter contest — The Hunt for the Traveling Toshibas — where attendees find one of our bloggers with a marked Toshiba laptop, (our bloggers will be wearing Toshiba buttons!) She will hand the blogger her business card (or leave her name, email and twitter handle) and send out a tweet using the hashtag, #TravelingToshiba, announcing she has found one of the Traveling Toshiba laptops.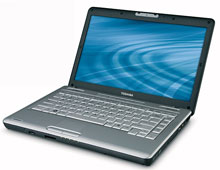 The BlogHer attendee's business card and tweet will enter her in an exclusive giveaway for a Toshiba Laptop. There will be three marked laptops and attendees can enter on all three!
The prize laptop will be the Satellite L515, one of the laptops used in the hunt!
Yes, the winner will leave BlogHer with a NEW Toshiba laptop!
Their New Line
On June 23rd, Toshiba launched the latest models in its top-selling line of Satellite laptops.
Toshiba has always had great price points for their laptops, but this year they have made it top priority to build laptops for today's economy. With this new line, Toshiba packs in premium features and performance for all kinds of budgets. Now you can get the features you really want — style, long battery life and eco-efficiency — in an affordable laptop.
Everyday Value
L Series – The new look and screen sizes were designed for budget-smart consumer and "Back-to-School" shoppers. The new features include high definition displays, Fusion™ Finish look, Toshiba PC Health Monitor, power saving eco-utility, ten-key keypad, discrete graphics and processing power. – starting at just $549.99

Multimedia and Mobility
U Series – Ideal mobility laptops that feature the latest advancements in mobile technology and are perfect for people who want a laptop that emphasizes their personal style.
M Series – Great for home users, students and casual gamers, these mainstream laptops have a perfect balance of performance, mobility, size and cost.

Widescreen HD Entertainment
A Series – Great for mobile loyalist and tech enthusiasts, these mainstream laptops are built for productivity and HD entertainment with sophisticated and elegant design.
P Series – Designed with digital media enthusiasts and mainstream PC gamers in mind, the laptops are perfect desktop replacements for power entertainment.
This summer Toshiba is also meeting the demand for mini-notebooks!
Toshiba recently launched its new Toshiba mini NB205, its first mini notebook designed for comfort with extra-long battery life, full-size keyboard and touchpad and choice of colors.
The new Toshiba Satellite Laptops and mini NB205 are now available for purchase through www.laptops.toshiba.com and select retailers.
Thank You Toshiba!
We want to thank Toshiba for sponsoring our trip to BlogHer and our "Hunt for the Traveling Toshibas" contest at BlogHer.
We can't wait to see who is going home from BlogHer with a new Toshiba laptop!