This post may contain affiliate links. Read my disclosure policy here.
I am not really an early riser. It might have something to do with the fact that I work late. Alright well if I was completely honest, I actually work until the morning. I don't get home from work until 1 a.m. so morning routine is difficult for me.
That being said I have been thinking about that old saying "the early bird catches the worm". The few days that I wake up even just five minutes before my kids, things go a lot smoother. Everyone is more relaxed and we actually get out the door happy and on time.
So that has me thinking – how can I manage to get up a little bit early every day? What can I do to make mornings less stressful, more efficient and easier for everyone in the house? How can I be more organized in the morning?
Here are five easy ways to get a few extra minutes every morning.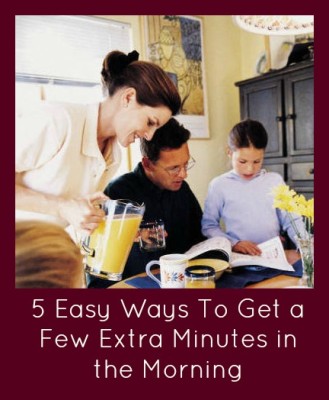 1.  Get up 15 minutes before the kids
This one is the hardest on the list for me but will make a world of difference if it happens every day. Those extra minutes before the kids get up are so valuable. The house is quiet and I am alone to move about without anyone getting in my way. Getting up before the kids allows you to start the day ahead of the game, rather than behind the eight ball.
2.  Go to bed just a little bit earlier.
Even 15 minutes will make the early morning. Sometimes this one is easier done in stages. Scale it back every night until you reach the goal you are striving for. Start with going to bed five minutes early, then ten and then 15.
Sometimes when you go for the whole deal all at once it can be hard, you think, "I have so much to do. How can I manage to get to bed early? There is not enough time in the day to get everything done."  It's easy to do just a few minutes every night. Those extra few minutes of sleep will do you a world of good when you get up in a few minutes early in the morning.
3.  Pack lunches the night before.
This is all about efficiency and the best use of time. No matter whether you are getting up 15 minutes early or slept late and have to scramble to get out the door this tip will take the stress off the morning.
4. Get the kids to set out their clothes the night before.
Again this is a great time saver in the morning. It will also help your kids learn that they have a roll in the household routine. They can start very young. You can give some direction but kids should really learn to make choices. If it is something that your children have a hard time with or is a battle point for you give them some choices. If you select two outfits you have some control but ultimately you have given final choice to your children.
5.  Delegate!
As mentioned above, you need to get the kids involved. And your partner too! Morning routines are much easier and less stressful if everyone has a part to play and follows through with what their job is.

How do you get organized in the morning?
If you found this post helpful, we would love it if you gave it a Stumble, Tweet, Pin, or Facebook Like. Thanks so much! We really appreciate your support of 5 Minutes for Mom.
We want to get to know you better — Tweet with us: @5minutesformom, find us on Facebook: Facebook.com/5minutesformom, or join our newsletter list.