This post may contain affiliate links. Read my disclosure policy here.
Last month, I fulfilled every sleep-deprived parent's dream: I vacationed without my children.
Even the Husband stayed home and it was just me — in the Riviera Maya, a mere 20 minutes outside of Cancun — a fruity drink in hand, enjoying the most beautiful Caribbean view that seemed to stretch for miles.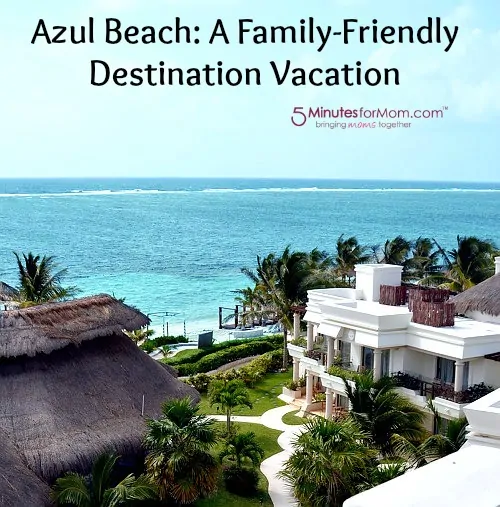 Perfect scenario, right?
Not so much. Not at the Azul Beach Hotel by Karisma — a luxurious, all-inclusive resort that pampered me, wined and dined me,  and … by the second day … had me missing my family.
(That was unexpected.)
Everywhere I turned, I saw families laughing. Smiling moms and dads playing with squealing children . . . or relaxing under white umbrellas while their kids painted ceramics . . . or reading books with children on swinging outdoor beds.
I was by myself — and that's when the first pangs hit. I missed my kidlets. Why? Because the Azul BeachHotel has one goal in mind: to create a memory-filled experience for the entire family.
First Impressions
It all starts the moment you walk through the open-air, "hacienda-style" lobby. Friendly, English-speaking concierge members greet you with damp, cold towels to help cool you from the humid, tropical air. (those towels were definitely a welcome sight after the warm trip from the airport to the resort!) After you finish cooling off, an icy cold champagne flute — bubbling with bright blue champagne — is ready for you.
As you sit on one of the plush lobby couches, drink in hand and soaking in the gorgeous, direct view of the ocean and Puerto Morales reef (second longest reef in the world), a staff member guides you through the check-in process and helps you select your in-room aromatherapy and your pillow preference. Yeah, as I chose from those five different pillows to pick the perfect one for my tired head, that was the moment I realized I wasn't in Texas anymore.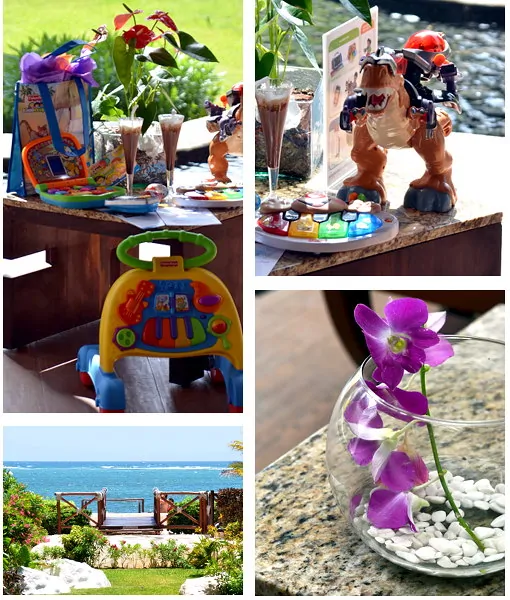 If you travel with children, the Azul Beach Hotel doesn't leave them out of the check-in excitement. Cookies, milk-shakes and a toy menu are ready for your little ones when they walk in with you. They can choose from the Fisher Price toy menu and "check-out" a fun, age-appropriate toy to help them feel right at home.
Food
As a "Gourmet Inclusive" resort, food, drinks (with the exception of some bottled wines), 24-hour room service, and even the items in your room refrigerator are included in the cost of staying at the property. Simply put: there is no need to budget for dining out on your Carribbean vacation — just choose from one of the five gourmet restaurants (featuring Asian, Italian, "World Cuisine", sandwiches, etc.) located on the Azul Beach resort and walk in. No reservations. No worries about pricey menues. Steaks, sushi, and sangria are ready for you depending on the restaurant of your choice. Made from scratch and featuring fresh, certified organic, local ingredients, these meals will more than satisfy.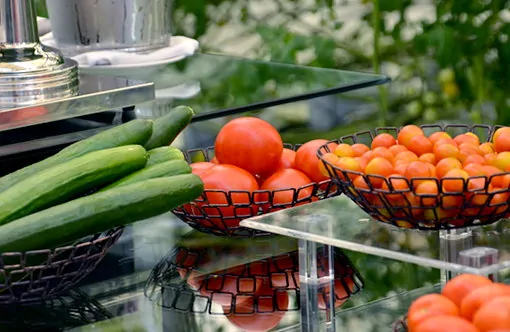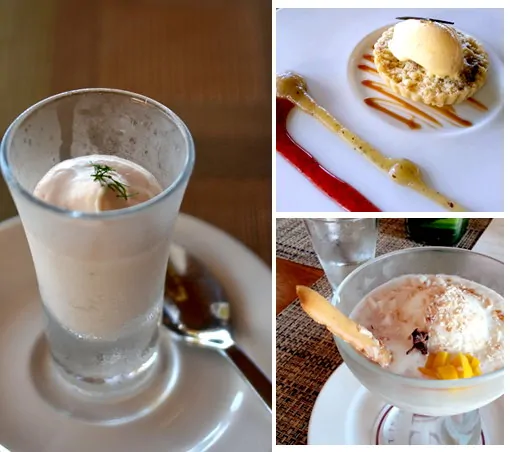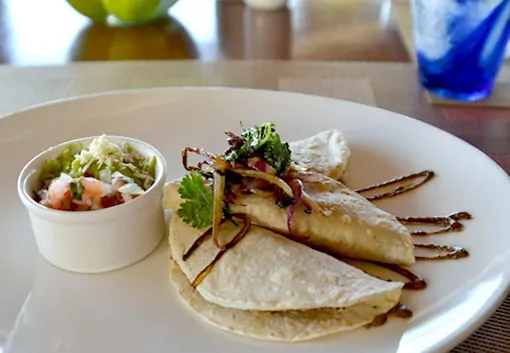 My personal favorite? Latino — where you find food inspired from the Southern tip of the Americas up to the Northern part of Mexico. They also have an impressive sangria menu and unbelievable churros. Every dish I was served, from the chef's selection of appetizers, to the "Conchoco" (a tongue tantalizing Colombian soup) to the Pollo Jamaiquino (a roasted chicken breast seasoned with jerk spices) was simply and perfectly prepared and full of authentic flavor. And, did I mention the churros?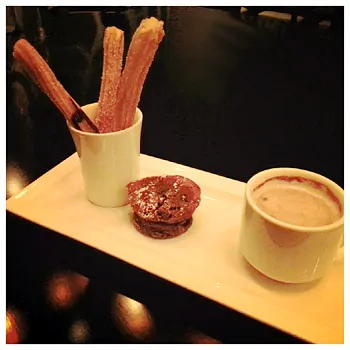 Traveling with picky kidlets or babies who won't be eager to chow on gourmet "adult food?" The Azul Beach is prepared with extensive kid menus, a collaboration with Gerber to provide their entire line of baby food, and Fisher Price high chairs and toys to keep them occupied.  The wait staff really go out of their way to make sure the entire family enjoys their meal, even serving cranky children first if need be.
Accommodations
This year, the Azul Beach Hotel completed a 21-million dollar renovation and addition project. The result? Beautiful, luxurious rooms that offer layouts and locations for any families' needs.
The family suite I stayed in was part of the new addition. With the contemporary decor and colors, and the private balcony overlooking the ocean and the property, it was gorgeous and a great departure from the crayon and cheerios decorating my home.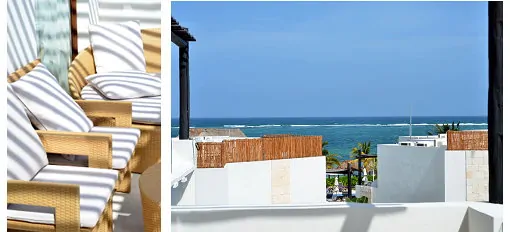 These rooms are also more than adequate to hold entire families. With the king size bed and couches/futons (and even a trundle), the room can easily accommodate parents and their children for a total occupancy of 5-6 people. If you have a baby with you on your trip, a beautiful crib will be placed in your room.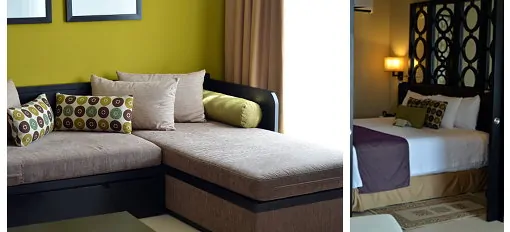 There are several room and suite options in the Azul Beach villas, including swim up suites. These first-floor rooms, which like my family suite, will sleep up to five people but have balconies which are situated right on one of the beautiful connecting pools. You and your children can enjoy the temperature-moderated water and then swim over to your balcony, climbing up the ladder to your balcony gate.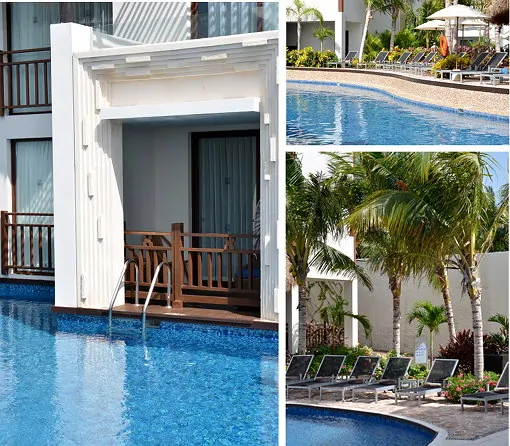 Leave the Toys and Baby Gear at Home
Probably the one aspect of this family-friendly resort that appealed to my "Mom-Side" more than anything else was the fact that, as a parent, you don't need to bring anything for your little ones.
(well, aside from the obvious diapers and swimsuits!)
The Azul Beach Resort has partnered with both Fisher Price and Gerber to provide all the "gear" and baby food you could possibly need during your stay.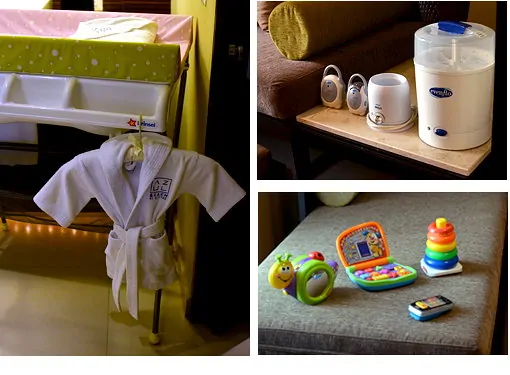 Strollers, high chairs, baby baths, bottle steamers, monitors . . . absolutely everything is simply a phone call away. The concierge is ready to bring anything you might need. And, as I mentioned earlier, each restaurant provides Fisher Price high chairs and Gerber baby food, in addition to their child friendly food menus.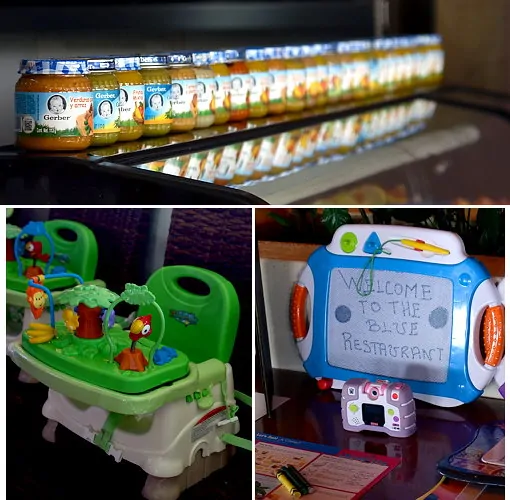 Activities
Beach games, a live Theater, babysitters so Mom and Dad can have a dinner alone, Azulitos (the "Kids' Club"), snorkling and a sanctioned Sea Turtle Sanctuary . . . everyone can find something to do for those rare moments when the ocean isn't enough.
For Kids:
Azulitos is a staffed facility for kids ages 4-12 (kids younger than 4 can come but only as long as a parent is present); this large is chock-full of activity centers: arts and crafts, movies, legos, trampoline and jump areas, video games and a variety of the latest Fisher Price educational toys  . . . everything kids need when their parents want a few hours alone during the day.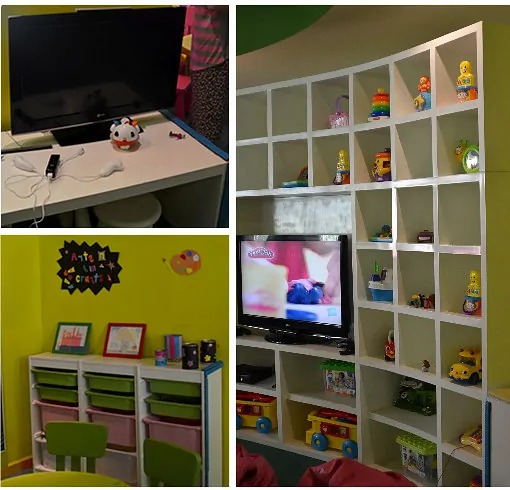 The staff of Azulitos also lead the kids in structured activities like beach treasure hunts, face painting, mini-yoga and story time. And, during "Sea Turtle Season," the kids are led on nature excursions to the government-licensed Sea Turtle nesting area on the property. The children are taught about the turtles, how they lay their eggs and how the resort works to protect them.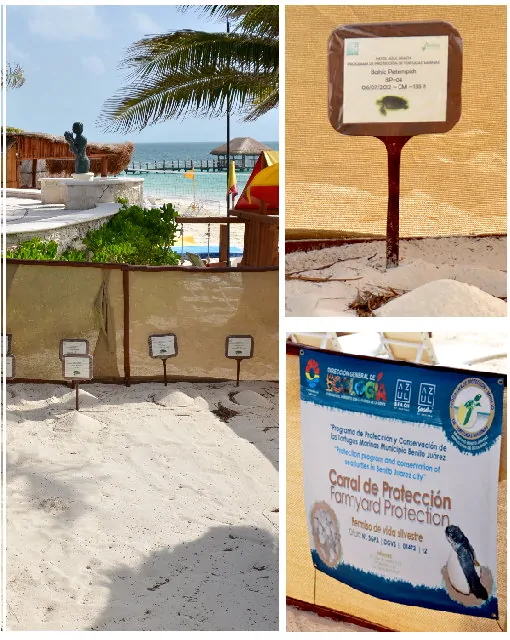 When it comes time for the eggs to hatch, you can let the staff know if you want to be notified so you and your family can be sure to watch the baby turtles crawl their way to the surface and down the beach to the ocean waters. What an experience!!!
A Spa Experience:
Another new highlight from the Azul Beach renovation project was the opening of Vassa Spa. This beautifully calm and serene facility provide a litany of services, including massages, facials, body treatments, makeup and hair-styling, body treatments for smooth skin, as well as special sensory experiences involving hot and cold water, chromatherapy, herbal steams, and saunas.
There are also special packages for brides and bridal parties, couple, and the "Perfectly Pink" experience where little girls and teens can have the ultimate "pink-centric" spa experience.
And, just so everyone  is clear: the full body massage treatment is fabulous! Combining aromatherapy, Mayan traditions and trained masseurs, it is the ultimate, cleansing form of relaxation.
The Beach
With all of the amenities, activities, restaurants, swimming pools, bars and lounges, it could be hard to forget the one reason Azul Beach exists: the beach! But, thanks to a beautifully planned arrangement of the facilities, you are face to face with the blue crystal waters and the sound of the waves every time you step out of your room.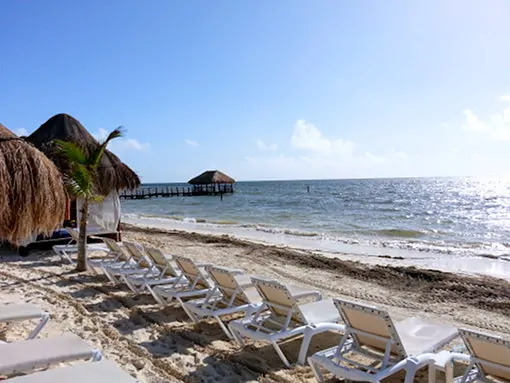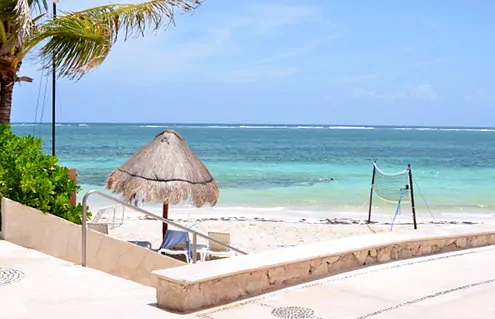 Whether you lounge under a grass umbrella or embrace the golden rays of the sun, every aspect of relaxation is provided by the Beach Concierge service with books, magazines, sunscreen, towels, and even tools for building the perfect sandcastle. If you want an even more "gourmet-inclusive" experience, you can make arrangements to reserve one of the canopied beach beds and there you can enjoy all day beach butler service.
Yeah … But Would You Go Back?
Absolutely. As a mom with three little ones (ages 5, 3, and 1), the lure of an all-inclusive resort that is family-centric. . . that anticipates and provides for every possible need  . . . that provides fun and relaxation and memories through a variety of natural and man-made amenities . . . is just too strong. I watched the four days I was in the Rivera Maya at the Azul Beach Hotel — I watched the staff, the lawn crew, the concierge, the housekeeping teams; everyone smiled and greeted guests. Children were especially noticed and watched out for.  Every single employee was dedicated to providing the families present a once-in-a-lifetime experience. It was beautiful and it was easy to  leave stress at home. It was easy to just enjoy life.
And that's why I began wishing my own children were there with me at the Azul Beach Hotel — splashing in the ocean, slurping fresh mango smoothies, and learning about Sea Turtles. Making memories with Mom.
(and Dad too, of course)
For more information on the Azul Beach Hotel and the rest of the Karisma Hotels, including the Azul Sensatori (which offers amenities geared toward families with older kids and teens) and the El Dorado (an adults only all-inclusive resort), visit the Karisma Hotels & Resorts website.
Thank you, Karisma, for providing this experience, travel and lodging, and expenses during my stay at Azul Beach.