This post may contain affiliate links. Read my disclosure policy here.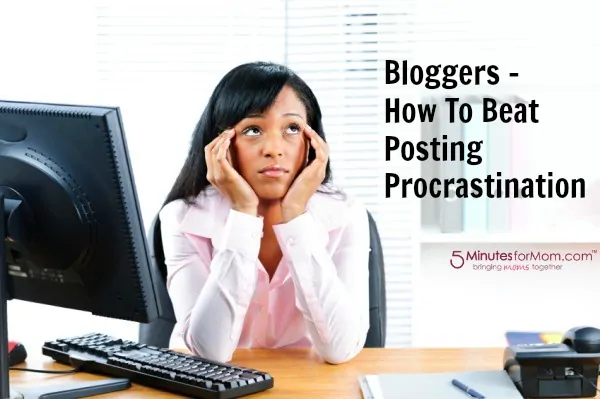 I am the worst offender.
I take procrastination to a whole new level. Although, yes some of that is productive procrastinating.
Tell me if this sounds familiar bloggers…
When I am supposed to be writing, I am often:
a) Catching up on blog reading
b) Managing my social media accounts
c) Answering emails
d) Putting out fires (work related, but with children, ya never know!)
e) Updating software
f) Editing images
g) Analyzing blog stats
h) and on and on and on….
All of the above is critical to my blogging business. It must be done. BUT, if I am not writing quality content, then the above really doesn't matter much either.
My problem, and I imagine many of you can relate, is that when I sit down, fresh, inspired, and ready to write, I get immediately sidetracked. It is hard not to! I make the deadly mistake of opening my email, my Facebook, my blog, etc, just to check in before I get my post writing started.
And we all know what happens next. I get stuck. And by the time I make my way out of all my accounts and put out all the fires, I am exhausted and not at all in the mood to write anything, let alone a brilliant post!

So what are we weary bloggers to do, when too much is on our to-do plates?
1. Write or Draft While it is Hot
Don't ignore the idea that popped into your head. Run to your laptop as fast as you can, or pick up a piece of paper, and jot down your main points. Even if you don't have time to write the complete post, the inspiration will be there, waiting for you.
2. Write Multiple Posts at a Time
I have heard this tip a few times, and it is what I like to do as well. If I am in a writing mood, or if I have a series I am writing, I like to get the main guts or at least the bullet points of each post written in one sitting. It feels so great to "get ahead" and even if they aren't completely finished, they have given me the head start I need to keep me in the race!
3. Format, Links, and Photos Later
I often get hung up looking for the perfect photos before I start writing, or getting my posts perfectly formatted and adding all the links when I still have writing "juice" in me. Instead of getting caught up in the details, get the words out first.
4. Write First, Facebook Second
Speaking of writing first… Don't open Facebook until you have written yourself dry. IF you need inspiration, a writing break, or some writing ideas, then jump on over to Facebook, Pinterest, or Twitter. But give yourself a time deadline and stick to it. Yes, this is the pot speaking.
5. Have Brainstorm Sessions
Stuck??? Have a brainstorming session — either on paper or on your computer. Write down any idea that pops into your mind. Come up with series ideas. Go into your analytics and look at what posts and keywords have done well for you. Not only will you come up with some post ideas, but you will refuel your creativity and your confidence!

Now — right after you pin, stumble, tweet, and FB this post *wink* — get writing!!!
Written by Janice Croze, co-founder of 5 Minutes for Mom.
We want to get to know you better — Tweet with us: @5minutesformom, find us on Facebook: Facebook.com/5minutesformom, or join our newsletter list.