This post may contain affiliate links. Read my disclosure policy here.
If I could, I would probably go everywhere barefoot. But since that's not practical, I'm really choosy about the comfort of the shoes I wear. I was recently sent a pair of Blu Kicks for review, and I'm so happy to add them to my "approved" shoes for comfort!

These slip on shoes are high quality and lined with a bumpy sock liner that feels great on your bare feet. Each pair has a fun bit of detailing on the back, with a surprise aquatic friend on the sole.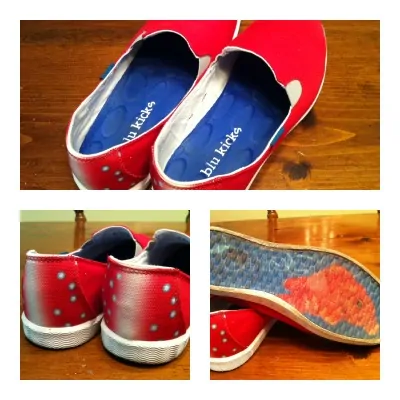 I received the Fiji Red pair of women's shoes, so I had a Coral Trout on my sole. Other shoes feature fish like the Blue Sturgeon, Garibaldi, the Great White Shark and Whale Shark.
The marine theme runs throughout the company's origin and current designs, as well as their commitment to the environment; one dollar from every pair of shoes they sell and goes to an organization focused on protecting the ocean.
So Blu Kicks feel good and do good, but they also just downright look good! You won't find any drab, boring shoes among Blu Kicks' inventory. No, their shoes are colorful and bold, and add a laid-back sass to any outfit.

My Fiji Reds were a perfect pop of color to brighten up my long list of errands just yesterday!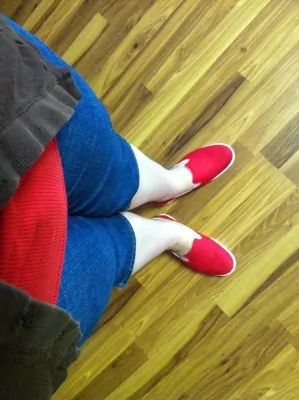 A few more things about Blu Kicks:
They were initially a little tight, but stretched out to a perfect fit in no time.
They do have half sizes.
All shoes come in a medium width.
Soles are non marking and non slip.
They are totally fine to wear in the water.
They are machine washable and can either air/sun dry or be put in the dryer.
*Disclosure: I was sent a pair of women's Blu Kicks shoes to facilitate this review. All opinions expressed are honest and my own.