This post may contain affiliate links. Read my disclosure policy here.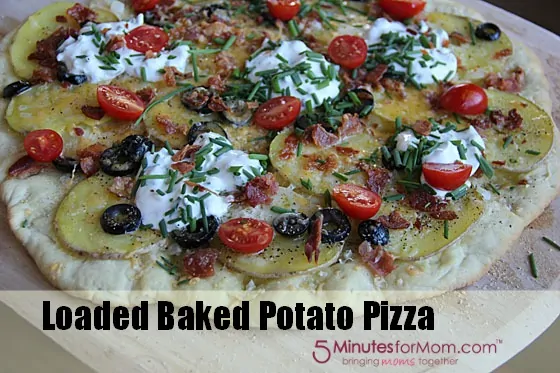 There are two meals that get my whole family excited, pizza and loaded baked potatoes. So what could be better than a combination of their favorites in one dish?
I love offering new foods to my family but some days I just want to know they will all be happy and eat. Kids are going back to school and dinner time seems more important than ever. I want to spend time talking about the day's activities and get my kids involved helping prepare the meal. Pizza is a great way to bring my family together.
Don't worry, this combination ends up being simple, light and full of flavor. It tastes like a loaded baked potato, but isn't as heavy. Feel free to play around with the toppings to suit your family's tastes. This comes together even easier if you pick up pre-made pizza dough at the grocery store or your favorite local Pizzeria.  It may just become your family's favorite as well.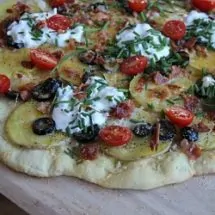 Ingredients
pizza dough - pre-made or your favorite recipe
3 small Yukon gold potatoes
2 cloves garlic minced
1/4 cup yellow onion diced
6 slices bacon cooked
1/4 cup sliced black olives
1/4 cup of Monterey Jack and Parmesan cheese mixed, grated
Handful of sharp cheddar cheese grated
olive oil
sea salt
fresh cracked black pepper
6 cherry tomatoes halved
1/2 cup sour cream
1/4 cup chives finely chopped
1-2 Tablespoons cornmeal for the crust
flour if needed, for working the dough
Instructions
The day night before, poke with a fork and microwave the potatoes for 2-3 minutes. They should still be firm. Refrigerate overnight.

If using a refrigerated pizza dough, set it out 20 minutes before cooking.

Put your pizza stone in the oven and preheat to 500 degrees.

Add a little flour to your hands, if needed, and spread cornmeal on your baking sheet or pizza peel. Work the dough with your hands to stretch it into a thin circle. Keep in mind how big your baking sheet or pizza peel is. Lay the dough on top of the cornmeal. This will help it not stick to the pan.

Use a fork to poke holes in the dough so bubbles don't form. Drizzle with olive oil and slip directly onto your baking stone. Bake for 5 minutes.

While the crust bakes prepare the other ingredients. With a mandoline on the lowest setting (I use the 1/16th) slice the potatoes. Put the slices in a bowl of cold water to prevent browning and rinse off excess starch. Pat dry with a towel and set aside.

When the crust is ready, take it out of the oven and drizzle again with a little more olive oil. Sprinkle half of the Monterey Jack cheese mixture on the crust, then onions, a single layer of potatoes and the remaining white cheese. Add half the bacon and olives, then add the cheddar cheese and finish with the remaining toppings. Drizzle with olive oil and add sea salt and pepper to your taste.

Bake for 3-8 minutes, or until the cheese is melted and the toppings are warmed through.

Before serving, reserve 1 tablespoon of chives and mix the remainder with the sour cream. Top the pizza with tomato halves and dot with the sour cream mixture. Garnish with the remaining chives.