This post may contain affiliate links. Read my disclosure policy here.
If you put a mom blogger on the spot and ask her to list three fellow bloggers who influence her, I'm sure she'll stutter.
It's obviously impossible to limit our influencers to three or to even attempt a "top three" list. 
So when asked to share three of my influencers from amongst my community of social media loving women, my mind started rattling off names. But since I was also asked to include photos of the women, I thought I'd pull up my Flickr BlogHer conference photos and highlight a few of my fabulous friends from there.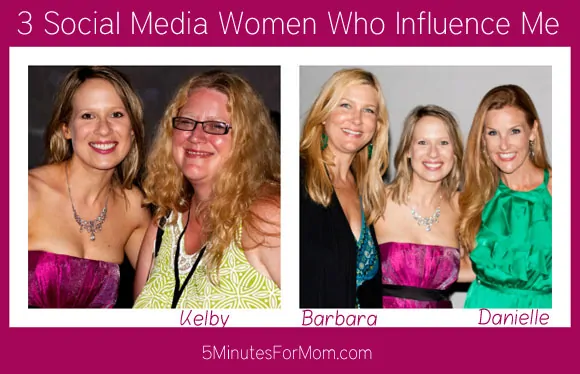 The brilliant and insanely productive Kelby Carr of
Type-A Parent
 has always been an inspiration and a great example of how to dominate in social media. I wish I could accomplish a tiny fraction of what Kelby continually conquers. She is a force. Her site is well named.
Another rockstar business woman in the social space is Barbara Jones, the Founder/CEO of One2One Network. I'm always watching and listening closely to Barbara.
And a dear friend who I love to learn from is Danielle Smith of Extraordinary Mommy. Danielle is a published author and a fantastic video blogger who demonstrates wonderfully how to authentically share her life through social media.
These three social media experts are the caliber of business women who influence me daily.
Okay, it's your turn…
Tell me three bloggers who you inspire, teach or lead you.
As a part of the BlogFrog Influencer Circle, I have the chance to create meaningful, authentic content for brands I love.  If you're a blogger interested in new opportunities, join BlogFrog's Influencer Circle and check out some of the top brands already working with BlogFrog. 
If you're a brand looking to work with online influencers, learn more about BlogFrog's Brand Solutions here. Now, I'm curious. What do you love most about blogs and blogging?
This is a sponsored conversation written by me on behalf of BlogFrog. The opinions and text are all mine.