This post may contain affiliate links. Read my disclosure policy here.
Look what happened to Susan on route from West Coast Canada to East Coast USA.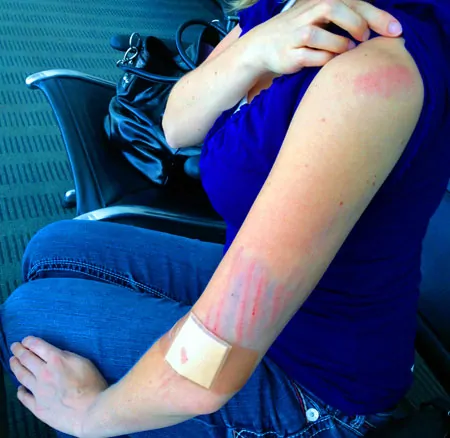 Susan does not seem to have very good luck traveling to New York for BlogHer. Her last trip she burst her ear drum, got us stuck on a Blue Shuttle 2 hour drive to our hotel at 2 am and later had her purse stolen.
So take a look at her today… what do YOU think happened?
a) She was attacked by a beaver.
b) She lost our fight for the window seat.
c) She fell backwards down an escalator.
Yes, it was answer C – the escalator… and it's actually a funny story.
We entered the Seattle airport each with large 50lb rolling suitcases, smaller carry-on roller suitcases and overstuffed purses. (Yes, we tend to over-pack.)
The escalators were right in front of us and a sign told us an elevator was nearby. I said, "Should we take the escalator or elevator? I can handle the escalator if you can." (I have good rollerboard suitcases and have taken them both on an escalator before.)
Susan went first and made a rookie mistake of pulling her small suitcase ahead and the big one behind. The big one landed in the middle of two steps and started to tip backwards. She leaned back to pull it up, but lost her balance and fell backwards – basically upside down – onto me which pulled all our suitcases and both of us into an embarrassing and painful pile as the escalator cruelly dragged us to the top. We managed to untangle ourselves and get off the moving steps, but Susan had suffered in the fall.
Once I was sure she was okay and we weren't going to have to head to a hospital, we had a good laugh at her expense.
She does have a mess of an arm which won't be looking great for photos, but overall she is okay. We just are focusing on the blessings that neither of us got seriously hurt and that nobody was around to see us fall like fools on an escalator.