This post may contain affiliate links. Read my disclosure policy here.
I am heading to Disneyland — the happiest place on earth! — about to have a weekend of networking, learning, sharing and FUN at the Startup Princess Academy. I can't wait for it all to begin at 4pm Friday!
But before my fun starts, I thought I would share a bit of contest fun with you from my sponsor, Faith Baby.

Because Startup Princess is all about empowering and supporting women entrepreneurs, I thought, "Who better to have as a sponsor for my trip than a women entrepreneur!"

So I am thrilled to feature mompreneur, Stephanie McGuire, owner of Faith Baby, an online store specializing in faith-inspired babywear.

Stephanie is an amazing example of all a woman can do. Personally, I am stunned at all she has on her plate!

She juggles a full time career, three children and she started her own company. (And guess what — included in those three kids is a set of infant TWIN girls! Yes, Stephanie is the embodiment of efficiency!)

Stephanie considers it an honor to raise her children, "We receive such a great responsibility when we are given a baby. We should never take it for granted, but honor and cherish them every single day." Stephanie believes it is a privilege to use His little and most precious creations to spread the love of God with their trendy and stylish, faith-inspired baby clothing.

Faith Baby was inspired by and is dedicated to Stephanie's precious little angel, Amanda, who was born 17 weeks too early and is now "safe in the arms of Jesus."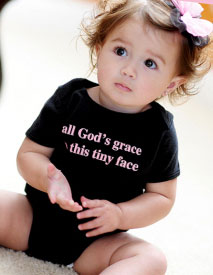 Stephanie's adorable products come in an assortment of colors and each has a sweet phrase or verse on it, such as this one pictured here from her site, "All God's grace in this tiny face."
I want the onesie in brown with pink, that says, "Mommy's Answered Prayers."
Olivia's middle name is Jenae because Jenae means, "God has answered our prayers." I picked the name Jenae right after I found out I was carrying a baby, before I knew she was a girl. I even talked to her as Jenae, somehow sensing she was a girl and that after a miscarriage and many tear-stained months, she would be the answer to my prayers.

So tell me, which onesie do YOU want?
Let us know in a comment below and we will pick a random winner in two weeks.
AND
Tweet about which one piece you want with the hashtag #faithbaby and we will draw a SECOND winner from those Twitter entries.
SO – to recap – there will be TWO contests, one here and one on twitter, each with one winner receiving a Faith Baby One Piece of their choice, valued at $14.99.
We will draw the winner from the first contest here from the comments. And the second winner will come from the contest on Twitter, that we will draw from tweets with the hashtag #faithbaby.
In both contests, you need to visit Faith Baby and tell us which one piece you want to win. And in the twitter contest, in addition to tweeting with the hashtag #faithbaby, you need to also follow @faithbabywear.
We will announce both winners, here and on Twitter, May 2nd.
Please see our site's Terms and Conditions of Use for a complete list of our contest and giveaway rules.
Written by 5 Minutes for Mom co-founder: Janice Croze