This post may contain affiliate links. Read my disclosure policy here.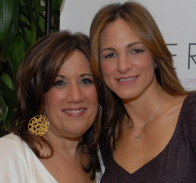 When you talk with Bradi Nathan and Terry Starr, you would hardly know that the two just met for the first time last September.
When you check out MyWorkButterfy, the social networking site that they launched together, you may be shocked to learn that it's only been in existence for ten weeks.
But, if you are a woman and mother and are looking to reenter the work place after leaving to focus on your children, you won't be surprised to know that us moms, we like to help one another out.
MyWorkButterfly is a social networking site like no other. It is a comprehensive guide for mothers on how to balance work and life. With over 300 pages of content, MyWorkButterfly offers support, advice, opportunity, fellowship and networks with other women who "get it." Women who are in the same boat, riding the same waves and who can come alongside you as you journey through the waters of life and career.
When they met last fall through a mutual friend at Borders book store, Bradi and Terry realized immediately that they would be able to help one another. Bradi, a mother of two children who left her career as Advertising Manager at Marie Claire to stay home eight years ago, was looking at reentering the workforce. Terry, also a mother of two who has worked in Recruitment Marketing and communications for 29 years, had a few ideas of her own. The two met the next afternoon and shortly thereafter, MyWorkButterfly was hatched.
But Bradi and Terry are not a two woman show by any means. They have enlisted the help and expertise of professional, working moms and women all over the country who are contributing to the site by writing articles on a variety of topics like beauty, fashion, travel, health, nutrition, finance, volunteerism and more. These are women who are in the field using their knowledge to encourage other women to take the leap.
MyWorkButterfly also posts exclusive monthly feature video interviews with real moms who are balancing both motherhood and career. Some of the women featured are already in the public eye, like, for example, Malaak Compton-Rock, mother of two, wife to Chris Rock and founder of the Angel Rock Project. By interviewing these powerful women, Bradi and Terry give us a glimpse into the lives of moms who know what it's like to try and do it all.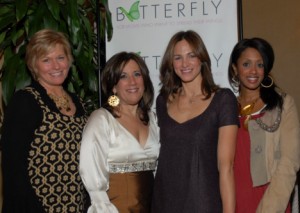 Interview with Bradi and Terry
I had the opportunity to speak with Bradi and Terry about their vision for MyWorkButterfly and exactly how you can benefit.
What prompted the launching of MyWorkButterfly?
Bradi — MyWorkButterfly was born out of conversations with stay at home moms or moms on maternity leave. There seemed to be a common theme among the women that I spoke with and that was that they wanted to go back to work but didn't know where to start. It seemed that many moms wanted to follow their passions but were not sure how to do so. I could see this broad, untapped talent pool and knew there was a need for the right resource.
After Terry and I met, we quickly decided to utilize our different strengths to create the perfect place for mothers to become empowered. We wanted it to be a place that would aide and support women in their life journeys.
The tide of social media is swelling quickly and ferociously these days. What makes My WorkButterfly stand out in such a crowded space?
Terry — We really are the most comprehensive site for our target audience, which, of course, is moms going back to work and those who never left and are dealing with the work/life harmony. Bradi and I agree that our one distinct area of separation is our content. We post original content written specifically for us by experts that we recruit from a network that we know personally or that are referred to us.
Bradi — Terry nailed it. The only thing I would add is that we also provide a resident career coach as well as a psychotherapist on hand to offer direct one on one advice to members. This is a great feature for moms who are ready to take the next step in their careers but aren't exactly sure what that step should be. These two resources provide women with the guidance that they need to move forward in their careers.
Practically speaking, what could a mom who is trying to merge back into the workforce expect when she joins rank with MyWorkButterfly?
Bradi — Opportunity. We have a national job board with over 10,000 job listings. As I said earlier, we have psychotherapist and a career coach on hand to give women counsel as they step back into the work force.
In addition to these great features, MyWorkButterfly also provides women with the chance to network by joining groups that specifically fit their needs. Whether a work at home mom, a mompreneur or an office mom, there are any number of groups you can join that will allow you the chance to meet others who may be able to help you in your career
Terry — There is real community spirit within the MyWorkButterfly network. Moms can share their successes, their frustrations, their excitement and their disappointment and immediately be met with encouragement from their support group.
What features does the MyWorkButterfly site offer that aide women in the balance of home and work life?
Bradi — A lot of our blog posts specifically address this issue, actually. We have a woman who writes for us regularly and her topics always speak directly to this struggle that all moms deal with.
We've mentioned our celebrity mother videos that we do monthly, but we also conduct interviews with peers who are seeing success in both home and career. We interview these women so others can see that it can be done.
What advice do you have for women who are looking to reenter the workforce but aren't sure where to start?
Bradi — Start with MyWorkButterfly! When you join, you'll be asked to tell us a little bit about yourself. This helps us guide you in the right direction within the site. The next step would be to reach out to other members; join a group, start a blog – embrace the site in its entirety to make the most out of every opportunity.
Terry — The goal of MyWorkButterfly is to help women not feel alone as they set out on this journey. And it's not just for women who want to reenter corporate America. A segment of the population on our site are moms who want to stay home but also want to supplement income in some capacity. MyWorkButterfly allows these women to network and socialize with others who are successfully doing just that, which in turn gives them the resources, courage and confidence they need to go for it themselves.
To understand a little more about MyWorkButterfly, go to their website and sign up. It's free to join and you lose nothing by spending a little time perusing the many features of their site.
There is power in tapping into the social networking platform. When you join forces with MyWorkButterfly, you are setting yourself up for success merely by your willingness to share your own journey so that you can help others and they can help you. That is a beautiful thing.