This post may contain affiliate links. Read my disclosure policy here.
Have you ever made rainbow salad in a jar? It's so easy and it looks as amazing as it is healthy!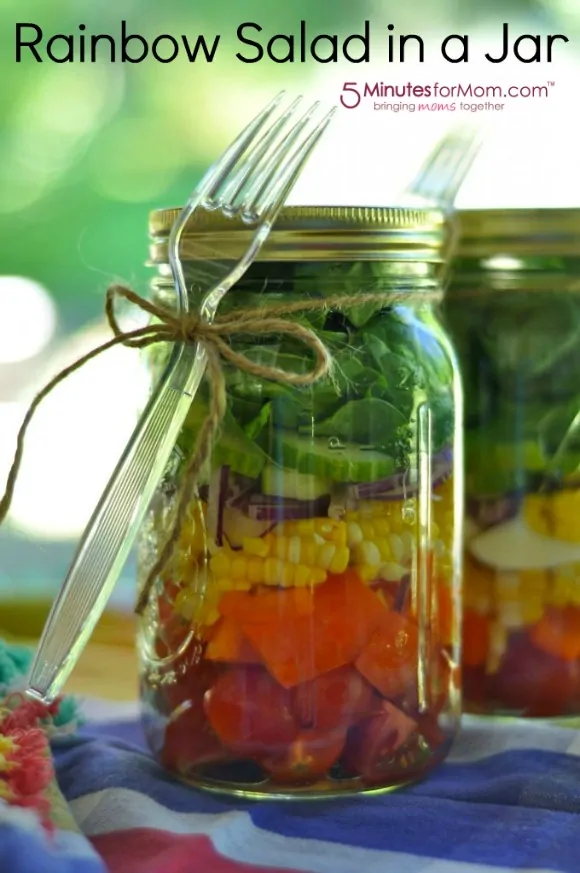 I love to cook, but when the summer heat rolls in (that means anything more than 90 degree for us Yankees), the oven becomes my enemy. We spend a lot of time outdoors, and it's a shame to drag everyone inside for dinner, so we set up paper plates and fire up the grill several nights a week. But on those lazy summer evenings when the kids are busy playing tag with the neighbors (or sitting on the hammock texting their friends), these jarred salads are a great way to feed the masses without getting drenched in sweaty effort.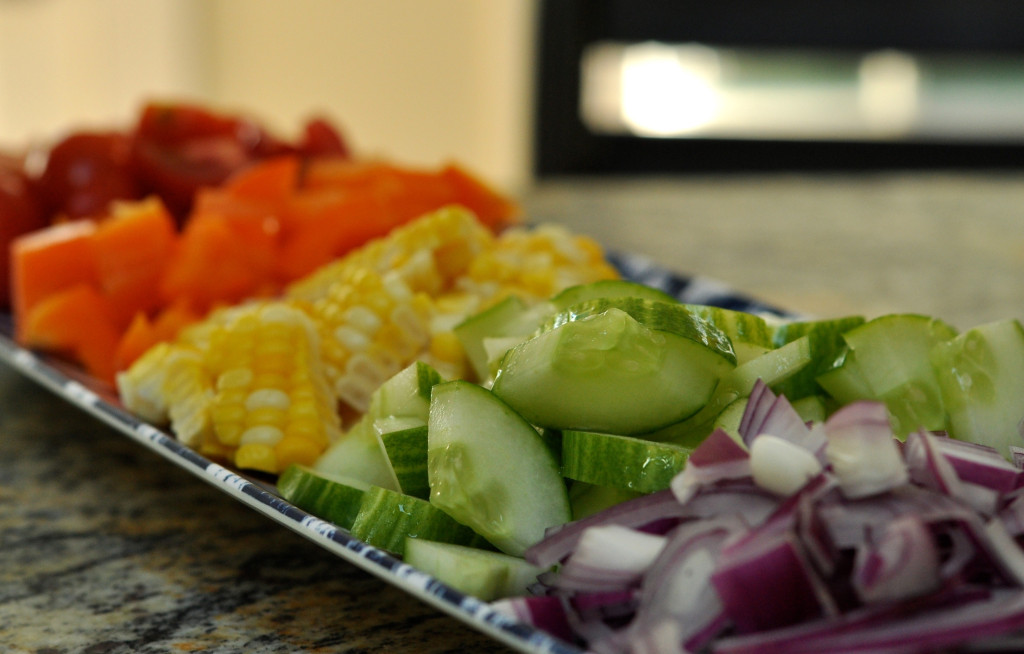 To keep this process easy, chop up a variety of veggies and fruit that you have on hand. Leftover corn is perfect in a salad, and carrots or orange peppers offer that bold orange. For protein, add boiled eggs, leftover chopped grilled chicken or burgers, or one of my favorite salad add-ons, garbanzo beans (or chickpeas).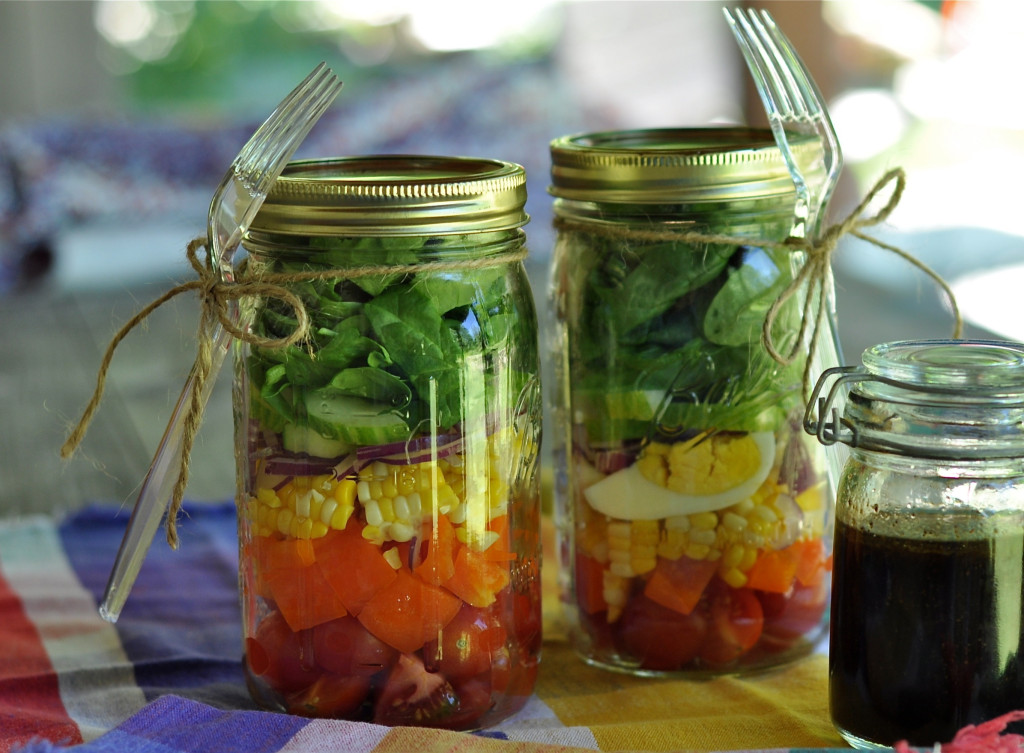 If your kids are singing the summer song of "I'm bored," then you can set up an assembly line earlier in the day or the night before, give each child a jar and let them customize their salads. Even my one child who doesn't like lettuce (really? does it even have any flavor?) will eat most of the other veggies and adores fruit, so there's bound to be something everyone likes.
When it's time to eat, everyone grabs a jar of salad, drizzles on their favorite dressing (or make your own) and eats. The fruit is a fun way to have a healthy dessert, although I wouldn't object to topping it with a little scoop of vanilla bean ice cream.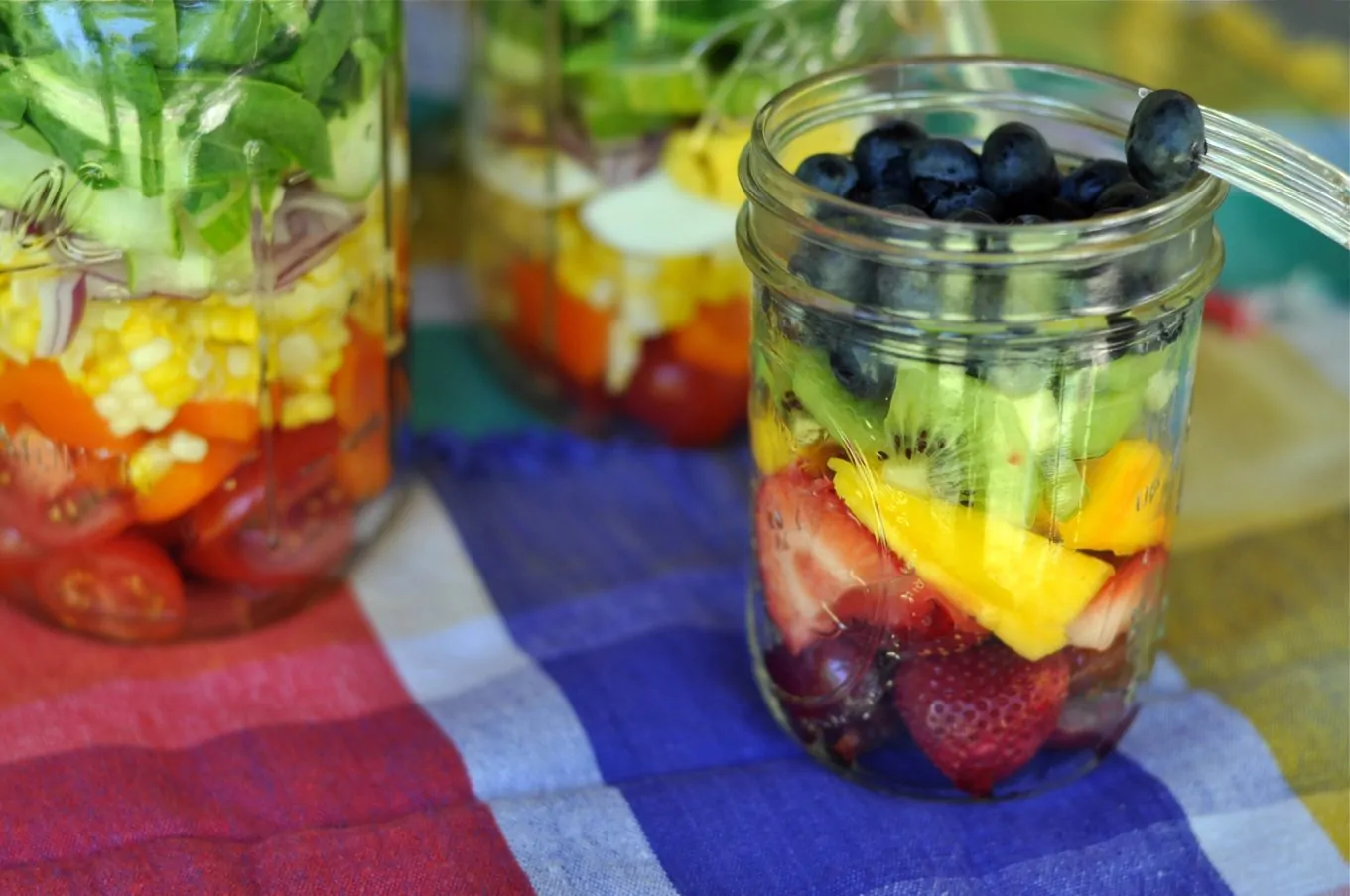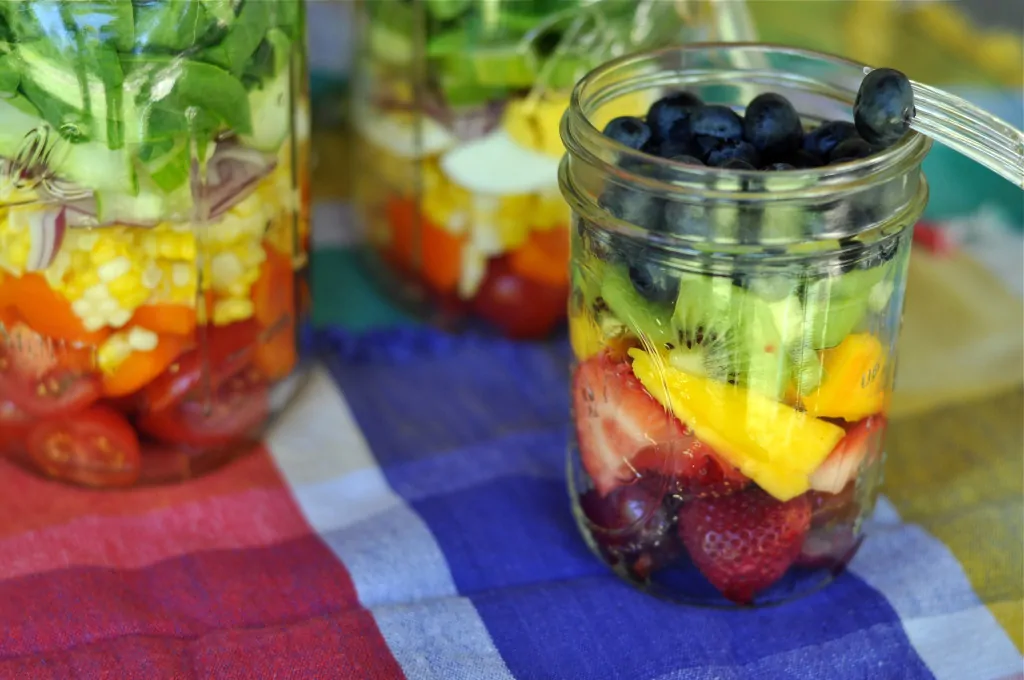 Tips For Making Rainbow Salad in a Jar:
If making the night before, refrigerate and keep the lid loose so a bit of moisture can escape.
Use hearty lettuce, such as romaine or iceberg, or spinach so it doesn't wilt, and make sure to put it on top so it doesn't get crushed.
For the fruit, avoid fruits that brown, such as bananas and apples (unless you toss them with lemon juice).
Do not dress the salad before you're ready to eat.
For an outdoor buffet with friends, fill a shallow platter with ice and nestle the jars (tightly sealed) in the ice so the fruit or salad doesn't get warm and wilt.
Get creative! Add some cooked wheat berries, couscous, or brown rice on the bottom layer or try feta cheese sprinkled in with the fruit.
Enjoy your salad!