This post may contain affiliate links. Read my disclosure policy here.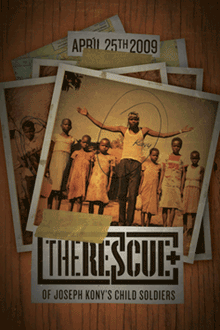 Several years ago, I was introduced to the film, Invisible Children, about the night commuters and child soldiers in Northern Uganda.
The night commuters consisted of hundreds and hundreds of children who fled their homes every night, walking for miles, to gather in verandas and hospitals to sleep. This was the only way they could make sure they were safe.
Outside of the buildings lurked danger, the danger of being abducted into the Lord's Resistance Army (LRA) led by Joseph Kony.
To build up his army, Kony abducts children, because they are the easiest to brainwash and control. Children ranging form ages 8-14, are abducted and forced to kill. They are immediately desensitized as they are forced to witness horrendous murders of other children and adults. Some even witness the brutal deaths of their loved ones. They are then taught and forced to kill and abduct more children.
Joseph Kony's army of children has grown to over 3,000 children. These 3,000 children will never have their childhood back. Their mothers mourn over them each and every day. These children long for peace, long to go home.
More About Invisible Children and the situation in Uganda:

In the spring of 2003, three young filmmakers traveled to Africa in search of a story. What started out as a filmmaking adventure transformed into much more when these boys from Southern California discovered a tragedy that disgusted and inspired them, a tragedy where children are both the weapons and the victims.

After returning to the States, they created the documentary "Invisible Children: Rough Cut," a film that exposes the tragic realities of northern Uganda's night commuters and child soldiers.

Since their film, these young men have made amazing strides as they have brought schools into the region and provided jobs for the women in Northern Uganda.
They have led several large events which have brought media and political attention to the horrible situation in Northern Uganda.
Peace talks continued in the region and for awhile, it looked like peace was coming. Soon there would be an end to the 23 year long war that had been raging in Africa.
Sadly, Kony has refused to sign peace agreements. On Christmas Day, 2008, he made his statement when he led a massacre in DR Congo that killed over 600 people and left hundreds of others mutilated. He created sheer terror. He also abducted more than one hundred sixty children.

A civil war, originally contained within Uganda's borders, has now evolved into a widespread regional crisis. Invisible Children, in concert with other policy organizations including Resolve Uganda, The Enough Project, Human Rights Watch and Amnesty International, now believes an international effort to apprehend Kony and rescue his child soldiers is the most viable way to end the most neglected humanitarian emergency in the world today.
How Can YOU Help?
On April 25th, 2009 the international community will unite to deliver the innocent from Kony's reign and ensure he is brought to justice. Thousands of participants will gather in 100 cities across the world to symbolically abduct themselves to free the abducted.

We will march, with a few belongings in a sack on our backs, for several miles and set up camp in a nearby park. We will then write letters to our leaders and wait to be rescued by a cultural or prominent leader in our city. Once our rescuers come, they will pledge their commitment to doing all they can to support the cause, apprehend Kony and rescue the child soldiers.

Please watch this video about the RESCUE event on April 25th, 2009


For more information on The Rescue event, please visit Invisible Children.
Educate yourself by watching a 30 minute video that will help you to understand the need, the terror that Kony has caused and the work that has been done to date by Invisible Children.
Get involved by signing up for the event, supporting the event or spreading the word.
Also, you can find the entire Invisible Children film here. I highly recommend that you take 55 minutes to watch it. It will impact you and it will change your life.
I hope that you can join me on April 25th, 2009.